Robert Redford's Outrage Over Jeju Naval Base Construction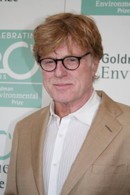 Eco-warrior Robert Redford has turned his guns on South Korea, urging officials to abandon their plans for a military base on the volcanic island of Jeju.

Politicians in the Far Eastern republic want to build a naval installation on the paradise isle to bolster their national security.

However Redford, who recently celebrated after President Barack Obama scuppered proposals for a huge oil pipeline across the States, has called on campaigners to block the plan, insisting it will damage the local environment.

In a blog post for OnEarth.org, the actor/director writes, "It would destroy the marine ecosystem. Our imperfect knowledge already tells us that at least nine endangered species would be wiped out, and no one knows or perhaps can know the chain reaction... Jeju isn't just any island. It has just been selected as one of the 'Seven Wonders of Nature' for its breathtaking beauty, unique traditions and sacred groves..."

"I think the least that environmentalists, peace activists and supporters of democracy can do is express our outrage. You can take action now by visiting the Save Jeju Island Campaign website."