Robert Redford Praises President Obama Over Oil Pipeline Ruling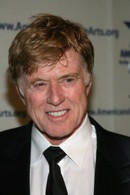 Robert Redford has praised President Barack Obama for "standing up" to the oil industry by shelving plans for an enormous pipeline stretching across the States.

The Oscar-winning actor/director has been a vocal opponent of the Keystone XL project, which would result in a new transportation pipe running from Canada to Texas.

Obama announced on Wednesday he agrees with U.S. Secretary of State Hillary Clinton's recommendation that the proposal should be rejected - and Redford has hailed the president for avoiding an "economic disaster".

In a blog for The Huffington Post, he writes, "Let's face it: Big Oil is used to getting its way. But not today... and we have President Obama to thank for standing up to them in spite of the political risk. President Obama has just rejected a permit for the Keystone XL tar sands pipeline - a project that promised riches for the oil giants and an environmental disaster for the rest of us.

"His decision represents a victory of historic proportions for people from throughout the pipeline path and all across America who have waged an uphill, years-long fight against one of the most nightmarish fossil fuel projects of our time."