Robert Pattinson Opts For A Laid-Back, Casual Look At 'Cosmopolis' Event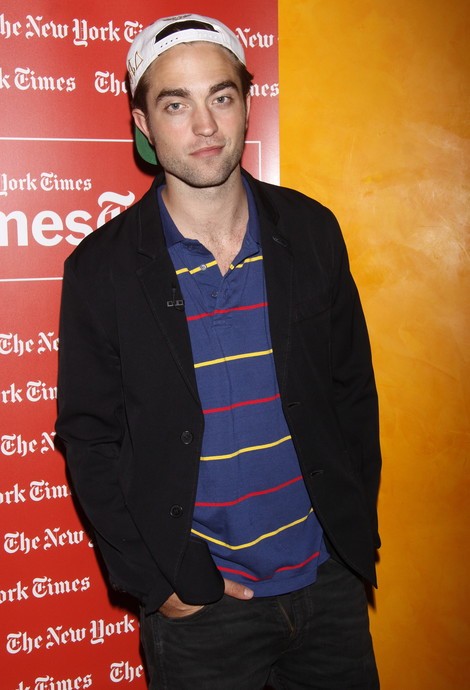 It must not be easy for Robert Pattinson to promote his new film "Cosmopolis," knowing that what the media really wants to ask is what's going on in his personal life.
Somehow the actor has managed to avoid the issue on everyone's mind - what he really thinks about his girlfriend Kristen Stewart cheating on him with her "Snow White and the Huntsman" director Rupert Sanders.
Earlier this week, Pattinson had his first post-scandal interview with Jon Stewart.  The two shared Ben & Jerry's ice cream, and although the talk show host alluded to the drama, he never came right out and asked Pattinson about it.
On Wednesday morning, George Stephanopoulos gave Pattinson free reign to tell "Twilight" fans what's going on in his life. "They seem pretty excited about kind of whatever," an uncomfortable Pattinson said on "Good Morning America." "You can kind of be like …I'd like my fans to know that Cinnamon Toast Crunch only has 30 calories per bowl, for instance. Everything that comes out of my mouth is irrelevant."
The actor attended the TimesTalks Presents: David Cronenberg and Robert Pattinson at The Times Center in New York that night, and he dressed down for the event, wearing a baseball cap backwards on his head, a striped polo shirt, and sneakers.
It appears he's growing weary of all the press surrounding him. Who wouldn't? As much as Pattinson tries to deflect the attention away from his relationship woes and towards his new film, he knows what's on everybody's mind, and it must be exhausting. We have to give him credit for trying to be as professional as possible and moving forward with his career and his life.
"Cosmopolis" hits select theaters Aug. 17.