Robert Pattinson Moves Out Of Kristen Stewart's Home, Katy Perry Reportedly Played Role In Couple's Split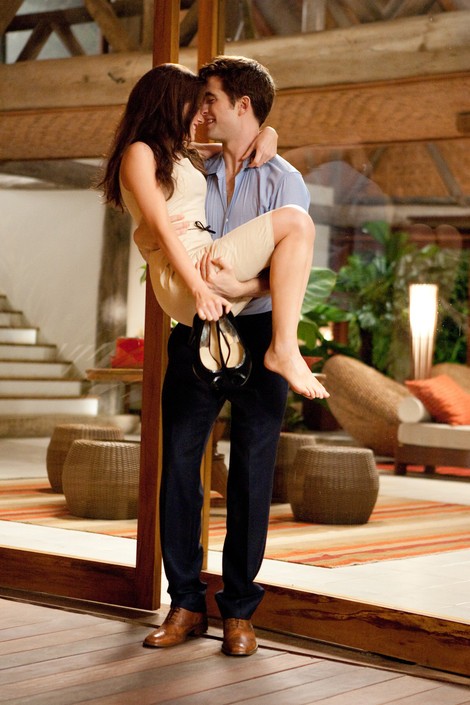 Reports that Robert Pattinson and Kristen Stewart have broken up began surfacing earlier this week and now it appears that the stories are true as Pattinson moved out of the couple's Los Angeles home over the weekend.

"He showed up early in the morning in a big red pickup truck and was in the house for maybe 30 minutes," a witness tells Life & Style magazine. "When he came out, the back of the truck was loaded with stuff. Suitcases, a bike, trash bags full of his things."

The actor even took his two dogs with him, which he left behind after their first split last summer when Kristen was caught cheating with Snow White And The Huntsman director Rupert Sanders.

"His dogs have lived with Kristen, 23, the whole time — even when she cheated, they stayed at her house — so it is very symbolic that he has taken them now," the source said.

Pop singer Katy Perry is rumored to have played a part in the couple's split.

Last year she came to Robert's side when Kristen's cheating scandal arose, and she and Robert were spotted together having dinner after the MET Gala in New York City two weeks ago, while Kristen attended without a date.

Comedian Chelsea Handler reported on her show, "Chelsea Lately," that the two were "having dinner, hanging out and laughing."

According to the International Business Times, a source says that Katy "created a wedge" between the two Twilight Saga stars; and a source tole E! News on Monday that Katy "played a role, as one of many reasons" the couple finally called it quits.

There's no word on whether Pattinson left on his own or if Stewart had something to do with it, but an onlooker said he "looked like a man who had just been kicked out."

The couple dated for four years after first meeting on the set of "Twilight" in 2008, but a big fight last week over a party Kristen had organized for Rob's 27th birthday was reportedly the last straw.