Robert Pattinson & Kristen Stewart Look Happy In New 'Twilight Saga: Breaking Dawn - Part 2' Stills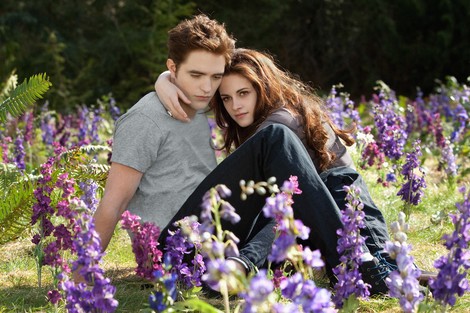 Summit Entertainment just released a batch of new film stills of Robert Pattinson and Kristen Stewart in "The Twilight Saga: Breaking Dawn - Part 2," which hits theaters in November.
In one shot, the vampire couple is cuddling in a field of purple flowers, while in another they are embracing in front of a copse of trees. Other images show the pair with their on-screen daughter Renesmee, played by Mackenzie Foy.
The film is likely the last time fans will see the former real-life couple holding hands and getting cozy with one another. Last month, Stewart shocked people around the world after it was revealed she had an affair with her "Snow White and the Hunstman" director Rupert Sanders while dating Pattinson.
The actress wound up issuing a public apology to her boyfriend, and moving trucks were later spotted outside the home the couple shared together. It's assumed they are no longer dating.
Earlier this week Pattinson returned to the public eye to promote his new film "Cosmopolis." We can't help but wonder what will happen when they must confront the media together for "Breaking Dawn - Part 2" in three months. Will Rob be able to forgive and forget?
Check out more photos from the film...