Robert Pattinson, Kristen Stewart And Taylor Lautner Immortalize 'Twilight' On Hollywood Walk Of Fame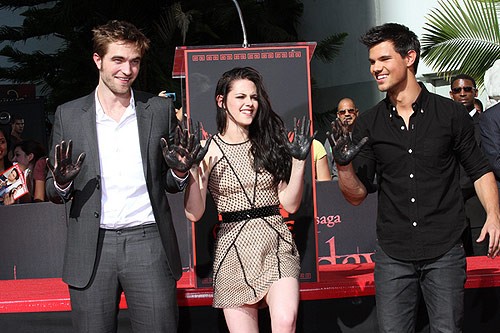 Twilight stars Kristen Stewart, Robert Pattinson and Taylor Lautner have immortalized the film saga with a hand an footprint ceremony outside infamous Grauman's Chinese theater in downtown Hollywood.

Late night TV host Jimmy Kimmel and the series' author Stephenie Meyer introduced the stars to droves of screaming fans on Thursday morning.

The saga's three biggest stars got their hands dirty in cement and were humbled by the experience.

"This is incredibly scary... This is such an incredible honor," said Pattinson. "How young we are? It's kind of ridiculous and amazing at the same time."

While Stewart said it was "the collest thing I've ever done in my life.

"This is insane that I'm doing this."

"Your [fans] support is unreal and we wouldn't be here today if it wasn't for you. There are a few moments that mean so much — it's really even hard to explain, and this is definitely one of those. This is really like a dream," said Lautner.

EW.com reported that Pattinson also revealed that he may have screwed up his prints during the event.

"Not only was I wearing shoes too big for me, but I put my hands in the wrong place so I'm going to have the most stupid-looking prints... It's going to look like a yeti," he says.

The three stars reprise their roles as Edward, Bella and Jacob once again on November 18th, when the latest installment of the Twilight Saga, "Breaking Dawn - Part 1" hits theaters.
CHECK OUT MORE PICS FROM THE CEREMONY!