Robert Pattinson Is Dethroning Brad Pitt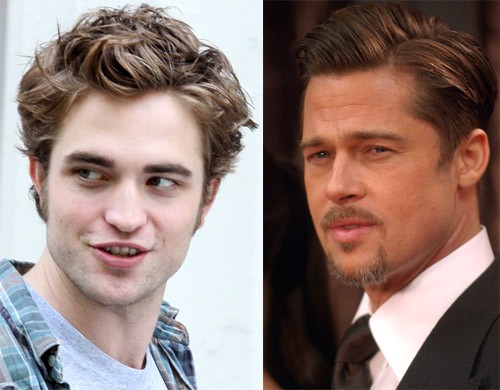 It seems as though the celestial stars are not the only ones shifting these days. Hollywood's biggest stars seem to be morphing into new and younger ones. Changes in Hollywood, however, are not uncommon - we have seen many older celebrities either die or simply fade away.
From
Bette Davis
,
Joan Crawford
,
Clark Gable
,
John Wayne
and countless others, superstars of the screen are after all, human. As they age, so do their fan bases. In the last several years
Brad Pitt
and
Angelina Jolie
have risen to superstardom, and they have managed to remain there unscathed. Brangelina are everywhere and seem unstoppable in everything they do.
This year's Cannes Film Festival seemed no different as Brad Pitt arrived to the raging crowds of thousands wanting to catch a glimpse of the 45-year-old actor and his equally famous wife, Angelina. This time, however, a new star was able to outshine Pitt. That star was
Robert Pattinson
, a 22-year-old actor from Britain who starred in a little movie about vampires called "
Twilight
." Pattinson's arrival drew crowds away from Pitt and had them refocusing on him. The crowds became uncontrollably loud, and Pitt seemed left in the dust.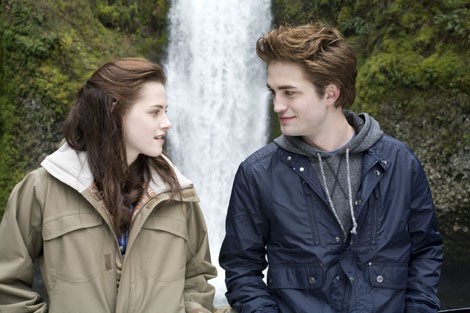 Image © Paramount Pictures
Pattinson, who had a small role in "
Harry Potter and the Goblet of Fire
," has catapulted to superstar status thanks to his new role as the lovable vampire, Edward, in the first film of Stephenie Meyer's hugely successful tween "Twilight" novel series. The series so far consists of four books, and Pattinson has agreed to star in all four movie versions. The saga places a teenage girl in a love affair with a vampire who is not only gorgeous, but that has a love for her that is remarkable. The first film (and novel) in the series, "Twilight," opened to astounding box office numbers ($69 million), and since its release has placed Pattinson and his co-star,
Kristen Stewart
, at the top of their game.
Pitt's most recent film, "
The Curious Case of Benjamin Button
," opened on Christmas Day 2008 to so-so numbers ($26 million). The running time of the film, at almost three hours, was blamed for its lackluster box office draw. Pitt, although he earned an Oscar nod for his performance, did not seem to have the star power to drive audiences to see the film. Pattinson, however, seems to be drawing in audiences with no effort whatsoever. Obscure, independent films that Pattinson made prior to "Twilight" are being re-released, and audiences seem to have a never-ending interest in him and everything he does.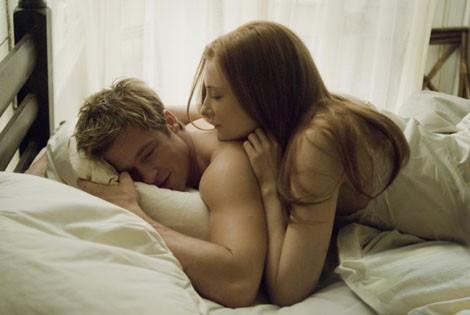 Image © Paramount Pictures
If this year's Cannes Film Festival is any indication of what's to come, we are clearly experiencing a shift of today's stars. Pattinson is everywhere we look - most magazines have had him gracing their cover. "Twilight" earned 12 nominations for the Teen Choice Awards. His alleged real-life relationship with Kristin Stewart has seemingly become more newsworthy than Brangelina. With "Twilight's" second film, "
New Moon
," being released on November 20, his star will no doubt continue to rise as the film was actually reworked to include more footage of Pattinson's character. In the novel, Edward, leaves Stewart's character, Bella, love struck for three quarters of the book by moving away in an attempt to protect her from any further harm due to his being a vampire. Pattinson's popularity, however, resulted in the script being reworked to include his character throughout via dream sequences and flashbacks.
What the future holds no one knows. Pitt, Jolie and others will continue to garner interest as there are still many millions of us who enjoy their films and lifestyles. In due time, they will not be able to play the sex symbol roles that have garnered their fame. Their roles are already transitioning to playing parents. As more films are made, younger, undiscovered rising stars will appear more attractive to young audiences, who consequently are the next generation of film audiences.
Story by
Lawrence Gould
Starpulse contributing writer