Robert Pattinson Eats Ice Cream With Jon Stewart, Skirts Around Breakup Scandal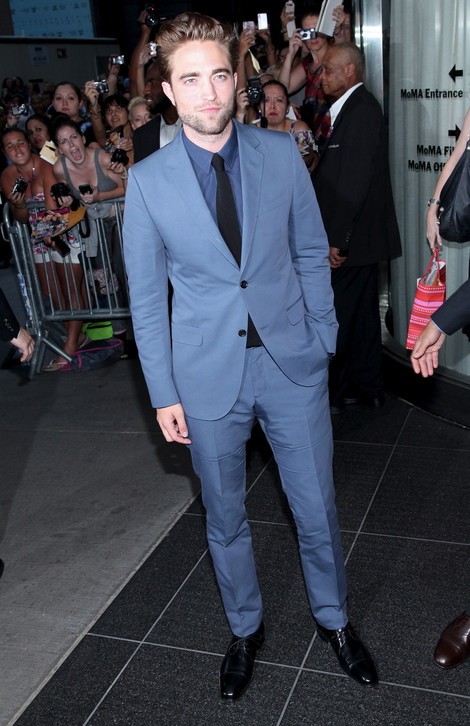 "What have you been up to?" Jon Stewart asked Robert Pattinson on Monday when the "Twilight" actor joined the comedic news anchor to discuss his new film "Cosmopolis." That's the million dollar question.
It was Pattinson's first TV interview since the world found out his girlfriend Kristen Stewart cheated on him with her "Snow White And The Huntsman" director Rupert Sanders.
Pattinson laughed and joked on "The Daily Show With Jon Stewart," sharing Ben & Jerry's ice cream with the host as Stewart indirectly asked the actor about the cheating scandal.
Pattinson confessed he was a bit unprepared for the inevitably "awkward" interview, saying, "This is the weird thing about these interviews... My biggest problem in life is I'm cheap and I haven't hired a publicist and normally these awkward interviews are scripted... I'm gonna hire a publicist."
The two slurped down melting ice cream, and Stewart joked they were just a "couple of gals talking." He said, "The last time I had a bad break up, Ben & Jerry got me through some of the tougher times so I thought you and I could bond over this (ice cream) and talk about, 'Boy, you are better off, kick her to the curb!'"
On a more serious note, Stewart commented, "When you are young and you break up, it is powerful and feels like the world is ending. This is the first time I have seen the world actually act that way. It's insanity. Here is my wish for you - that you get to handle your business in private in your personal life and I wish you all the best."
In the final couple of minutes of the interview Pattinson plugged his new film, saying "Trying to explain what the movie is about is physically impossible."  He asked "Twilight" fans to make it a bigger opening than "The Dark Knight Rises," even though "Cosmopolis" is only opening in six theaters.
Director David Cronenberg adapts author Don DeLillo's novel about a Manhattan billionaire (Pattinson) who finds his quest to get a haircut from his father's old barber complicated by the presidential motorcade, a gang of violent anarchists, and a funeral procession for a famous hip-hop star.
Watch the interview below:
The Daily Show with Jon Stewart
Get More: Daily Show Full Episodes,Political Humor & Satire Blog,The Daily Show on Facebook