Robert Knepper Returns To Television In The CW's 'Cult'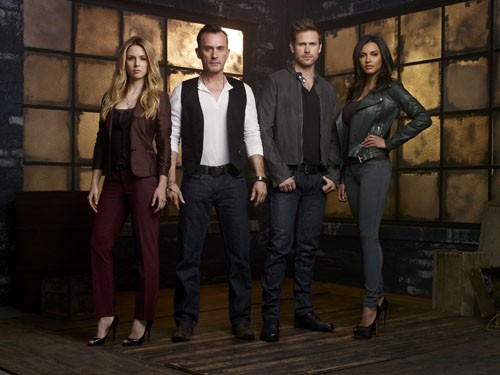 When it comes to something he's done that stands out to Knepper himself, he points out a movie that's totally different from anything you know him for. "I did a film when I was about 30, it's a coming of age story called Gas Food Lodging, and I'm so proud of that little independent film," he said. "I play this young English geologist, and he's such a simple, loving kind of guy. Doesn't talk too much. He's just a quiet guy and he gets the girl." That's on DVD, and you can find it here.
One of the reasons the Ohio native has been able to sustain a career for so long is that he harbored no illusions about how committed he'd have to be in order to succeed. "Once I realized that I was doing this, I had no choice but to keep going," he said. "I always knew that it was a difficult career. Just because you had a break didn't mean you'd have another break. I lived and supported myself in the theater and then film and television. I really had nothing to fall back on and I did that on purpose."
Cult isn't the only thing keeping Knepper on our small screens. He'll also be part of the new Frank Darabont series, a cops-versus-gangsters drama set in 1930's Los Angeles that will air on TNT. "I'm supposed to do six of those," he said. That show's cast includes Jon Bernthal (The Walking Dead), Milo Ventimiglia (Heroes), and Neal McDonough (Justified). It's good company to keep, and there's no doubt that Knepper has earned all the opportunities that continue to come his way.
"I'm just getting started, basically," he reflected. "Prison Break really changed me to somebody that can put butts in seats."
With one internationally popular project behind him, and two more on the horizon - and that's just counting his television work - the actor has accomplished quite a bit in his career. But what would make all of it worthwhile? "I'd like to do the Charlie Rose show. I'd like to have my name in the New York Times crossword puzzle. I kind of want to win an Oscar," he said. "The greatest honor, of course, [is] if I can just get through my life with my son saying 'You're the greatest dad,' which he does."
When he's not creating memorable roles, Knepper is an animal lover who's passionate about the environment, having worked with both Heal the Bay and the Sierra Club. "I care just as much about the environment right now as I do about living and about my craft," he explained. It's just one way he is so different from the persona his past characters have created for him. Off-screen, Knepper is a devoted father and great conversationalist that it would probably be great to live next door to.
Which is a welcome change of pace from what he does at work every day. "If I didn't step out of T-Bag or Billy or the next one, or even the hero, I would go nuts because I think 'I'm not this character,'" he said. Daniel Day-Lewis is one of my favorite actors, I love and respect him so much, but I can't do what he does."
Although Knepper has demonstrated that he's great at bringing monsters to life, he's not worried about being typecast, either. "I continue to be known as a guy that plays really complex, three-dimensional characters. This one just happens to be bad," he said. "As long as I mix it up every once in awhile, I don't care. I just like acting. If you're going to play a part, play a great part, and Billy Grimm is another great part."
Cult premieres tonight at 9 PM ET/PT on The CW.
For more from Brittany Frederick, visit my official website and follow me on Twitter (@tvbrittanyf).
(c)2013 Brittany Frederick. Appears at Starpulse with permission. All rights reserved. No reproduction permitted.