Robert Knepper Returns To Television In The CW's 'Cult'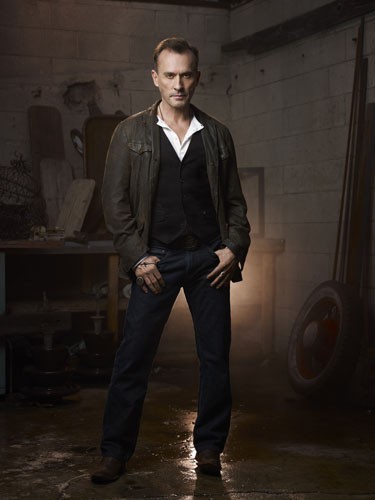 The CW is hoping to startle you with Cult, its new series about a TV show that's garnering a loyal - and potentially deadly - audience. It's a concept that demands an intimidating actor at its core...like Robert Knepper, who's best known for making viewers more than a little uncomfortable as Theodore "T-Bag" Bagwell on Prison Break. The veteran performer recently connected with BFTV to talk about taking on Cult and if he's worried about being typecast as the bad guy.
Knepper plays a dual role on Cult; he's actor Roger Reeves, but Roger's job is playing a cult leader named Billy Grimm on the suspicious show. It's a juicy gig for anyone, but as it turns out, Knepper had ties to the part before he even knew about it. "I had a friend who called me up, [and] he said 'You should have your people check on this show called Cult. I called the casting director and said 'Who's your prototype for Billy?' and they said 'Robert Knepper,'" recalled the actor. "And I read the script and I understood why, because I played an iconic monster and then that changed my life."
The actor already had a lengthy resume before landing his role on Prison Break, but nothing that prepared him for the level of attention he received while on the FOX drama. "I could disappear into a character and no one would ever know who I am, and then Prison Break changed all that," he said. "That does something to your head when you're just out with your son, or your wife, or your girlfriend. I'm aware that at any second, someone's going to come up to me. Cult, to me, was an answer to what I've gone through as an actor, as a person, because of what happened to me on Prison Break."
Not that he's complaining. "My life is going to continue to be public and I just accept that," he added, "because I love acting so much that I don't give a damn."
While he can certainly identify with the ideas behind Cult, Knepper's acting muscles are still challenged, perhaps moreso than ever before, because he gets to build not one but two characters on this series. "I love going to play every day," he said. "I come to work with a smile and I leave with a laugh, and I'm so grateful."
It's hard to imagine "T-Bag" in a good mood, but that just proves how chameleon-like of an actor Knepper is and has been over more than two decades. His resume includes a part in Woody Allen's 1996 musical Everyone Says I Love You, two different series in the Star Trek franchise, and playing a pair of iconic individuals, Robert F. Kennedy and Frank Sinatra. More recently, he got to be a hero in the TV-movie Seal Team Six: The Raid on Osama Bin Laden. He's capable of far more than being menacing...even though he does menacing very, very well.
"When people come up to me and say 'I hate you' or 'I love to hate you,' it's not the usual response that I thought I would've gotten halfway into my career," he admitted with a laugh. "And then they say, 'I love your work.'"