Robert Downey Jr. Wears Lederhosen, Acts Goofy At German 'Iron Man 3' Photocall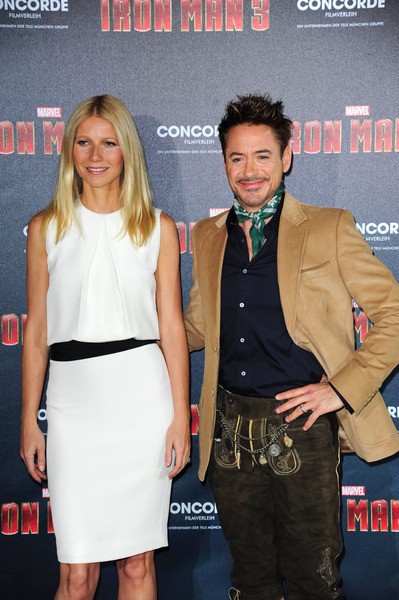 Robert Downey Jr. was exuberant and playful at the "Iron Man 3" photocall at the Hotel Bayerischer Hof
in Munich, Germany, on Thursday.
The actor played homage to the European country by donning lederhosen, a pair of brown knee-length britches. He also wore green socks, a matching kerchief, brown blazer and button-down shirt.
In contrast, his co-star Gwyneth Paltrow dressed more conservatively in a pretty Kaufmanfranco silk white shift dress. She seemed amused by Downey Jr.'s red-carpet poses.
In the film, brilliant industrialist Tony Stark/Iron Man (Downey Jr.) is pitted against an enemy whose reach knows no bounds. Stark is left to survive by his own devices, relying on his ingenuity and instincts to protect those closest to him.
"Iron Man 3" premieres in theaters May 3.