Robert Downey Jr. Is Hollywood's Highest-Paid Actor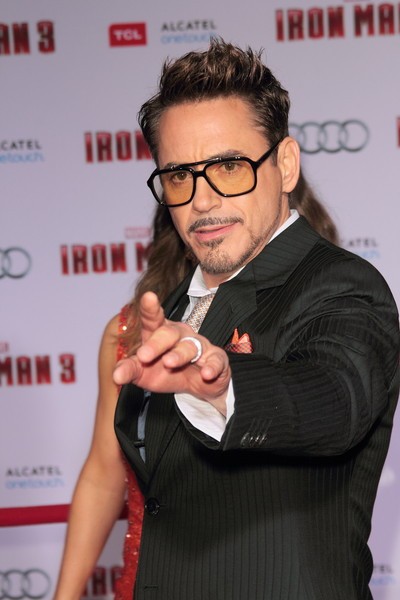 Fans and studio executives love Robert Downey Jr. - but for two different reasons. Cinemagoers love him for his boisterous on-screen personas. Filmmakers love him because he brings in a lot of money. Tons of it.
His most recent films - "The Avengers" and "Iron Man 3" - each earned over $1 billion worldwide. So it's no surpise that the actor just topped Forbes' Hollywood's Highest-Paid Actors list. He earned approximately $75 million between June 2012 and June 2013.
Downey Jr. is a comeback king. He fell from grace after struggling with a drug addiction, and most movie studios found him un-insurable. Miraculously, he was given another chance with 2008's "Iron Man," and the rest is history. The "Iron Man" franchise has made a whopping $2.4 billion. And he's reaped the rewards of such an empire.
Don't forget to add in "The Avengers," which is the third highest-grossing film of all time. It made $1.5 billion at the box office. Downey Jr. took home a large part of the film's profits and was paid the highest salary on set. Of course he's starring in the sequel, which begins filming next year.
Rounding out the top five on Forbes' list are: Channing Tatum, Hugh Jackman, Mark Wahlberg, and Dwayne Johnson.
Tatum made approximately $60 million between June 2012 and June 2013. He has some brains behind his brawn.  People's Sexiest Man Alive and director Steven Soderberg financed stripper flick "Magic Mike." It took $7 million to make and earned $167 million at the box office. You do the math.
Jackman earned an estimated $55 million over the past year. Much of his worth is due to his role as Wolverine in the "X-Men" films. The sixth movie in the franchise, "The Wolverine," opens in theaters later this month.
Wahlberg comes in fourth with $52 million in earnings (way up from the $27 million he pocketed in 2011). He and Seth MacFarlane made "Ted," which cost $50 million and earned $550 million. That's a heck of a profit.
Wrester-turned-actor Johnson earned approximately $46 million. He starred in "Fast & Furious 6," which earned $695 million on a budget of $160 million.
Check out the entire list at Forbes.