'Rob Thomas: Something To Be Tour - Live At Red Rocks' On DVD June 30

The Red Rocks Amphitheatre in Colorado - a legendary venue that has been graced by rock luminaries from The
Beatles
to
U2
- provides the awe-inspiring backdrop for three-time Grammy® Award-winning artist
Rob Thomas
in his first-ever live performance DVD. Captured in High-Definition and mixed in 5.1 Surround Sound for the acclaimed PBS music series Soundstage, the 18-song concert features seven songs not seen on the original 2007 television broadcast plus the music video for "Streetcorner Symphony," which was also recorded live at this show. A must-own for every Rob Thomas and
Matchbox Twenty
fan,
Rob Thomas: Something To Be Tour - Live At Red Rocks
arrives in-stores simultaneously with Thomas' new Emblem/Atlantic Records solo album, cradlesong, produced by Matt Serletic - making June 30 one of the most highly anticipated music release dates of the year.
In 2005, Rob Thomas' first solo album
…Something To Be
debuted at #1 on the Billboard album chart and sold over 3 million copies, while break-out single "Lonely No More" raced up to the top of the singles charts. In June 2006, Rob Thomas reached a new peak (literally and figuratively) when his "Something To Be Tour" made a stop at the Red Rocks Amphitheatre in the foothills of the Colorado Rocky Mountains. The setting proved an idyllic backdrop for Thomas' set, which mixed Matchbox Twenty hits such as "3 AM" and "Bent" with tracks from his solo career including "This Is How A Heart Breaks" and "Ever the Same." The incredible performance also includes a special acoustic arrangement of "Smooth" and a cover of the
David Bowie
classic "Let's Dance."
One of the most distinctive vocalists and accomplished songwriters in contemporary music, Thomas has earned a string of accolades - both for his work as lead singer and primary composer with Matchbox Twenty as well as for his solo work and collaborations with other artists. In 2004, the Songwriters Hall of Fame presented Thomas with its premiere "Starlight Award" - created to recognize a songwriter in the early years of his or her career who has already made a lasting impact. He has won numerous BMI and ASCAP Awards, and has earned the Songwriter of the Year crown from both Billboard and BMI for two consecutive years.
Thomas has written and performed a remarkable string of hits, including Matchbox Twenty's #1-charting "Push," "3AM," "If You're Gone," "Bent," "Disease," and "Unwell," plus such favorites as "Real World," "Back 2 Good," "Mad Season," and "Bright Lights." His smash collaboration with
Santana
, the Thomas-penned "Smooth," earned Rob three Grammy Awards and ranks #1 on Billboard's "Top Hot 100 Rock Songs" chart and #2 on the magazine's "Hot 100 All-Time Top Songs." He has also worked with the likes of
Willie Nelson
,
Mick Jagger
,
Marc Anthony
and
Bernie Taupin
. Combining all of his projects, Thomas has contributed to sales of more than 80 million records.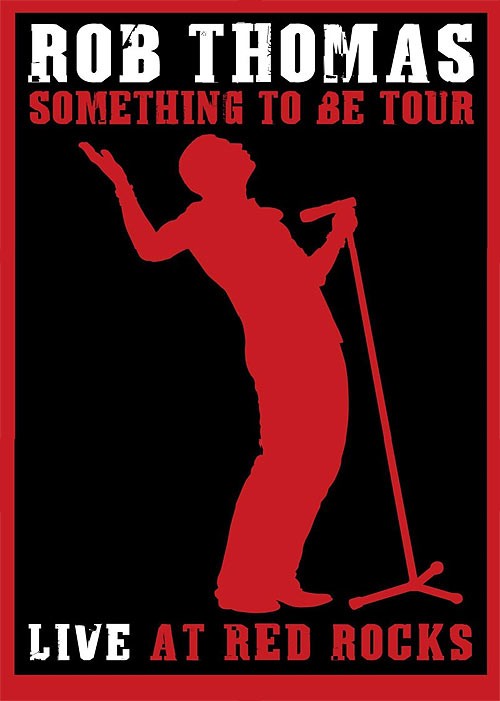 Image © E1 Entertainment U.S.
"Rob Thomas: Something To Be Tour - Live At Red Rocks" Set List:
1. Something To Be
2. Fallin' To Pieces
3. If You're Gone
4. When The Heartache Ends*
5. Ever The Same
6. Not Just A Woman*
7. 3AM
8. You Won't Be Mine*
9. The Difference*
10. Bent
11. Problem Girl*
12. Let's Dance
13. Lonely No More
14. I Am An Illusion
15. Now Comes the Night*
16. Smooth
17. You Know Me*
18. This Is How A Heart Breaks
*
not included in original PBS broadcast
Go
HERE
to watch the video for "Her Diamonds", the first single off Rob's upcoming album, "Cradlesong".
About Soundstage: Debuting in 1974, Soundstage quickly earned critical acclaim by providing viewers a firsthand concert experience that they could enjoy at home. After an 18-year hiatus, Joe Thomas, founder of HD Ready who specializes in combining high-definition television and cutting-edge surround sound re-introduced the hour-long concerts to the public television lineup with a state of the art makeover. Upon its return, Soundstage reinvented itself using high definition video equipment; digital recording technology and Dolby 5.1 surround sound to bring the music of today¹s most popular artists to homes across the country. Over the years, the innovative and prestigious program has achieved widespread critical acclaim and featured the artists that defined the era, including the Dave Matthews Band, Robert Plant, All-American Rejects, John Mayer, Wilco, Sonic Youth, Sheryl Crow, Joss Stone, Fleetwood Mac, Alison Krauss and others. Soundstage is produced by HD Ready, LLC and WTTW National Productions and is distributed nationally by PBS to more than 250 public television stations.
About E1 Entertainment U.S.: E1 Entertainment U.S. (formerly KOCH Vision) is the U.S. home video label of E1 Entertainment (AIM: ETO), a leading independent entertainment content owner that acquires film, television and music rights and exploits these rights in all media in more than 190 countries. Boasting a diverse library of feature films, television series, award-winning children's programs, live music concerts and more, E1 Entertainment U.S. is the home of such notable properties as Soundstage, McLeod's Daughters, Wire in the Blood, Popular Mechanics for Kids, Faerie Tale Theatre, The Best Years, Ballet Shoes starring Emma Watson and Nickelback Live at Sturgis. For more information on these and other releases from E1 Entertainment U.S., please visit www.kochvision.com.