Rob Lowe's Drew Peterson Film In Jeopardy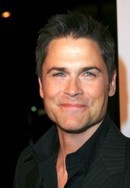 Actor Rob Lowe's forthcoming movie portrayal of accused killer Drew Peterson has been thrown into jeopardy - the suspect has launched legal proceedings to halt production on the project.

The former police sergeant is currently awaiting trial after pleading not guilty to the murder of his third wife, Kathleen Savio, whose death had initially been ruled an accidental drowning. He is also suspected of killing his fourth wife, Stacy Peterson, who disappeared in 2007.

Lowe recently began working on the TV movie for Lifetime network, tentatively titled Ladykiller: The Drew Peterson Story, but the ex-cop is not amused.

Peterson's lawyers recently sent a cease and desist order to studio bosses demanding they shut down production.
 
According to CNN.com, the letter claims the book which the movie is based on, Fatal Vows: The Tragic Wives of Sergeant Drew Peterson, is a "biased and malicious portrayal, far from a 'non-fiction,' 'true story,'" like the show description implies.