Rob Gonzalez Launches 'Tribute to Ray Charles' Recording Project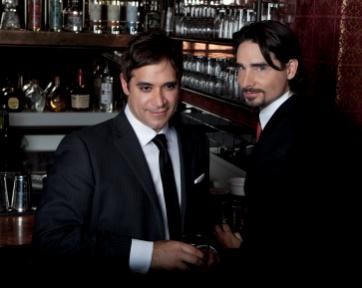 Update: Last holiday season, I introduced you to independent recording artist Rob Gonzalez, who partnered with the Backstreet Boys' Kevin Richardson for the Home for the Holidays benefit concert at the Montage Beverly Hills hotel. After the success of that event, Rob (pictured left) has now moved on to another project: a musical tribute to the legendary Ray Charles.
"With this record, what I want to do is take some of the amazing songs that Ray recorded and change the arrangements around to 'modernize' and interpret them through my style," Rob explained in a statement posted on the project's website. "In that way, I'm paying my own personal tribute to Ray's genius, which is the best I could ever hope to do. It's just my personal way of saying 'thank you' to Ray for all that his music has brought me over the years."
Next Friday, October 19, Gonzalez and an impressive team - including a 35-piece orchestra, 18-time Grammy-winning engineer Al Schmitt, and arranger Jason Goldman, who has worked with Michael Buble in the past - will have their first recording session for the project in the 'Frank Sinatra Room' at Capitol Records. They'll record three songs and release them as an EP, in hopes of fueling interest for the full-length album tentatively scheduled to drop in 2013.
In order to pay for the post-production, manufacturing and marketing that recording and releasing the EP will entail, Rob has set up a Kickstarter page for crowd-funding. You can visit that page for more information on the project and the rewards that he is offering to those who pledge.
In addition to the recording project, on December 11, Rob will once again be fronting the Home for the Holidays concert, this time with a Ray Charles theme, including a 20-piece big band. If you missed last year's show, check out my interview with Kevin and Rob about the concert.
You can also keep up with Rob's latest at his official website, RobGonzalez.com.
For more from Brittany Frederick, visit Digital Airwaves and follow me on Twitter (@tvbrittanyf).

(c)2012 Brittany Frederick/Digital Airwaves. Appears at Starpulse with permission. All rights reserved. No reproduction permitted.