Rob Decoup Provides Music For Thought With 'Pain' EP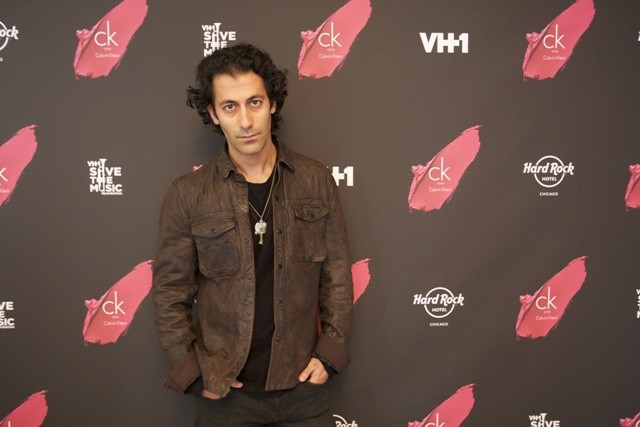 New York City-based singer-songwriter Rob Decoup's new EP, Pain, hit your digital store shelves on November 11. Shortly afterward, BFTV took a few minutes to chat with Rob about the fresh music, his career highlights, and the things that set him apart from other musicians.
"I would say my music is resembling 90's rock music and I have a lot of sort of grunge influence," Rob explained. "I think rock in general's getting some interest at the moment. We're now at a time when that's kind of coming back. We see Pearl Jam coming back, Alice in Chains, Black Sabbath had a number one album [with 2013's 13). It's also very blues-influenced rock."
Another key to Rob's music is that he's surrounded himself with other talented people. For Pain, he praised the work of Arejay Hale from Halestorm, who played drums on all four songs on the EP. "He laid the drum tracks and he was amazing," Rob told us. "I've never seen such a passionate drummer."
The EP serves as a segue to Rob's full-length album, Rays Of Sun, which is expected to be released in early 2014 and similarly features intriguing names all around. "The album's going to come out in January, and that was produced by Mike Plotnikoff," he said, naming the producer who's worked with the likes of Drowning Pool and Buckcherry. "He's a very sweet guy."
"We have Eric Friedman, who's the [touring] guitarist of Creed, and Marty O'Brien, who goes on tour with Tommy Lee," he continued, "And Phil X, the current [touring] guitarist of Bon Jovi."
Here's a video of Rob performing at Topfest earlier this year.
What would Rob say sets him apart from other musicians? He doesn't believe it's that complicated. "I think it all boils down to the songs," he told us. "If the songs are good, people will react to them. Writing good songs, it takes a lot of your time. It's not like you can produce it in a factory. You live with the songs. When I write songs they're part of me for many days until they're born completely.
"I think that's pretty much what will make or break a band," he continued. "The songs, the melodies, and also the practicing, just being prepared. I guess the unique thing about me, because I started in poetry, [is that] my lyrics, they do reflect the issues in our world. I think as an artist, it's important to convey that and not just write about superficial things which don't really matter. And you'll hear that in the album. The songs are mostly about the social problems of our world today."
"When I decided to fully focus on the music and make the move to the US, I was kind of at a crossroads," he reflected. "Now I'm bringing my music and my lyrics to the world, and hopefully somehow I can influence people. Try to bring to their attention the issues and the problems that we have in our world today - economic disparity, the slow destruction of our civil liberties."
His combination of social consciousness and musical talent has served him well. Rob has opened for Iron Maiden, a band that he describes as "my heroes for a long time," and he's played at major festivals like Topfest in Europe and Lollapalooza in Chicago. He's worked hard ever since he was a teenager to be able to say that he's a professional musician.
And that's not even the entirety of Rob Decoup. It might also interest you to know that he has a Ph.D. in Political Science, and is a major movie enthusiast, too. "I'm very passionate about film, independent film especially," he told us. "I think down the road I would really love to direct or write a film at some point." His favorites include Stranger Than Paradise, Pulp Fiction, and The Godfather. So it's entirely possible that Rob can not only get a tune stuck in your head, but discuss a major world issue with you, and also give you a Netflix recommendation.
But things will always ultimately come back to the music. "It's always been the dream," he said. "Ever since I was motivated to learn to play the guitar when I was like 13, it was always a vision that I had. I can't really imagine myself doing anything else."
Rob Decoup's EP Pain is now available on iTunes. For more information on Rob, visit his website (robdecoup.com) and follow him on Twitter (@RobDecoup).
(c)2013 Brittany Frederick. Appears at Starpulse with permission. All rights reserved. No reproduction permitted. Visit my official website and follow me on Twitter at @tvbrittanyf.