Road Recovery's 10th Anniversary Benefit Concert

It's not every day that you are given the opportunity to witness performances by top notch musicians including
Tom Morello
(
Rage Against the Machine
,
Audioslave
),
Slash
(
Guns N Roses
,
Velvet Revolver
)
Perry Farrell
(
Porno for Pyros
,
Jane's Addiction
) and
Jerry Cantrell
(
Alice in Chains
), as well as numerous other talented musicians all on the same stage. However, on Thursday evening, April 17th, thousands of music fans gathered together at the Nokia Theater in New York City, to watch these artists rock out in celebration of
Road Recovery's
10th year anniversary.
Road Recovery is a program that helps young people overcoming addiction work towards a better future through music. The artists that performed on Thursday were just a few out of many who help sponsor the program. To say that Thursday was nothing short of miraculous would be a severe understatement.
The evening kicked off with
Denis Leary
singing "Rehab" to a comical slideshow of celebrities in rehab, followed by "I'm an A**hole", one of his most popular songs. Next up was Crazy James, a band that consists of young adults who are part of the Road Recovery program. In between songs, the band members shared touching stories of how the program has affected their lives for the better.
Ours
took the stage around 9pm, and for those of you who have never experienced the music of Ours, their performances are absolutely mesmerizing. The band performed an acoustic version of "Murder" off their recently released album
Mercy (Dancing For the Death of an Imaginary Enemy
), followed by an unreleased track "Autumn". I've been fortunate enough to see these guys live on a few occasions and they never cease to amaze me. Front man Jimmy Gnecco's voice is so overpowering and passionate that it's hard to take your eyes off his intense stage presence.
The crowd's atmosphere really picked up when Jerry Cantrell took the stage and performed an acoustic version of Alice in Chain's "Brother", followed by Pink Floyd's "Wish You Were Here" with Slash on lead guitar. The thing that's great about Slash is that his appearance in person is identical to his appearance in the old Guns and Roses music videos. He was sporting a black top hat, retro sunglasses and had a cigarette hanging out of his mouth at all times.
Perry Farrell took the stage next, performing Jane's Addiction's "Mountain Song", Porno for Pyro's "Pets" and an electrifying rendition of
Stevie Wonder's
"Superstitious", all while Cantrell, Morello and Slash rocked the guitars and Farrell's wife, Etta, sang backup vocals. Perry Farrell's energy and enthusiasm is astounding. He just gallivants around the stage, grinning from ear to ear and telling the audience how much he loves them.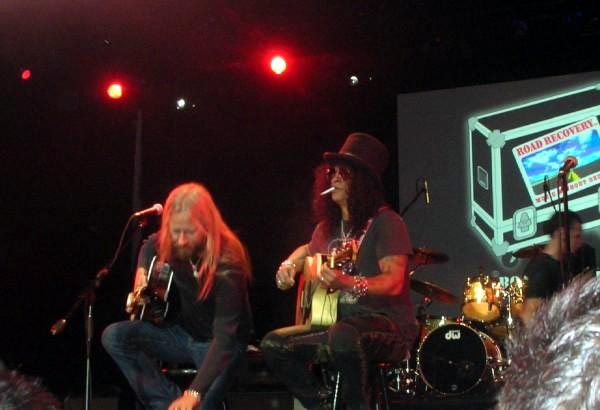 In the midst of all the rock and roll, Sen Dog from
Cypress Hill
mixed it up by throwing in a few rap songs including "Jump Around", "Insane in the Membrane" and "Superstar", then proceeded to jump into the audience and crowd-surf. Talk about adding a 90's rock touch to the evening.
Tom Morello was just about to wrap up for the finale when he received an unexpected visit from
Jakob Dylan
(
The Wallflowers
), which sent the crowd into a wild cheer. Dylan fronted Farrell, Slash, Morello and Wayne Kramer (
MC5
) for a mellow ballad of "He's Got the Whole World in His Hands".
The highlight of the evening took place during the finale, when Morello brought everyone back on stage: Cantrell, Gnecco, Slash, Perry and Etta Farrell, Sen Dog and numerous other artists, and asked the audience what they wanted to hear, at which point everyone chanted "Guns and Roses". The stage came alive as everyone rocked out an exhilarating, explosive version of "Paradise City". Let me tell you, watching so many talented artists perform on the same stage together will forever go down as one my all-time favorite moments in music history, and judging from the ecstatic reaction of the crowd, something tells me I'm not alone. The entire evening was magical.
Story and photos by
Rachel Burke
Starpulse contributing writer