RJ Mitte: After 'Breaking Bad,' A Great Example In Hollywood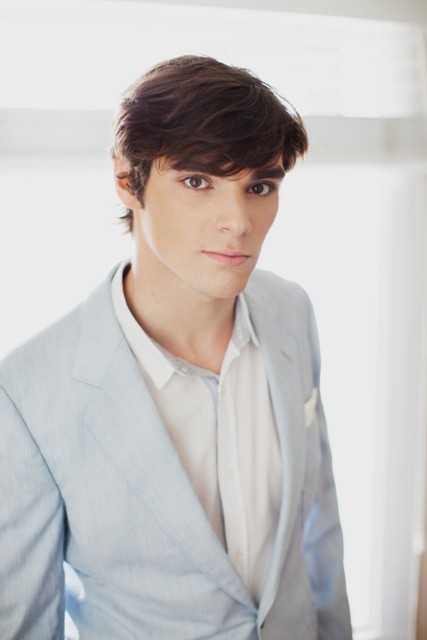 We know and love RJ Mitte from his role as Walter White, Jr. on Breaking Bad. What you might not know is how remarkable of a person he is, both as an actor and as a representative of the disabled community in Hollywood. We had the pleasure of speaking to RJ last week to discuss building his career after Breaking Bad and how he's doing his part off-screen to make the world a better place.
How do you follow up starring in what's widely considered to be one of the best TV series of all time? "The biggest thing is to keep working. Work will beget more work," he told us. "What's lucky is Breaking Bad gave me a career. Breaking Bad put me on a different level. The trick is now to maintain and keep reaching bars. Nothing will ever compare to Breaking Bad. You can only hope to continue to work and continue to grow."
"The best thing about Breaking Bad was telling the difference between good scripts and bad scripts," he explained. "When I read the pilot, there was nothing that I ever read like it. It was just brilliant. And the story just kept evolving to a whole new level. Watching it unfold, you're able to tell the difference. It's a real tool to have, because not a lot of people have the opportunity to work on something like that."
Unsurprisingly, everyone in the original Breaking Bad ensemble has landed on their feet: Bryan Cranston earned critically acclaim for his stage performance in All The Way; Anna Gunn is starring opposite David Tennant in FOX's Broadchurch remake Gracepoint; Aaron Paul has turned to the big screen with roles in Need For Speed and the Nick Hornby adaptation A Long Way Down; Betsy Brandt starred in NBC's The Michael J. Fox Show and is now part of Showtime's Masters of Sex; and Dean Norris is starring in CBS's Under The Dome.
For his part, RJ nabbed a recurring role as Campbell, the latest boyfriend of main character Daphne, in the third season of ABC Family's Switched at Birth. He couldn't have picked a more opposite project to tackle after Breaking Bad, at least in terms of the on-screen work.
"It was different demographics and different types of drama," he said, comparing one to the other. "We were so lucky to have the crew and cast of Breaking Bad. But when I got Switched at Birth, they were just so warm and welcoming, and their scripts were well written as well. I'm so lucky that I could go from one amazing set to another."
He's also making strides to break through on the big screen, taking the title role in a film that's one-part road movie, one-part coming of age story. "I just shot a movie about a month ago called Who's Driving Doug. It was fun," he told us. "It [co-stars] Paloma Kwiatkowski and Ray William Johnson. The writer of it, Michael Carnick, is a very unique writer; he has a form of muscular dystrophy, and the character's a little bit based on him as well. I'm curious to see how it's going to turn out!" The film is scheduled for release in 2015.
More importantly than any part he's played or will be playing, though, is the standard that RJ is setting off-camera. Like his Breaking Bad character, he has cerebral palsy, and he works tirelessly to campaign on behalf of people with disabilities as well as adding his support against bullying. He's the official ambassador for United Cerebral Palsy and Shriners Childrens Hospitals, and works with the Screen Actors Guild's I AM PWD program (iampwd.org) for the inclusion of people with disabilities in the media.
"There's so many amazing causes out there," he reflected. "There's so many people looking for help out there, and there's so many ways [to help] that we have now with the media. We're the new age."
As someone else with cerebral palsy, this writer can say from experience that it's uncommon for somebody to own their disability in the way that RJ has. Not only has he found a way to turn the difficulties into positives, he's using his adversity toward the greater good. It's truly a breath of fresh air to see someone who's not just secure in identifying as disabled, but proud of it; he's a remarkable example for all of us who face those challenges every day.
Even setting aside his handicap, this is a young man who's accomplished a great deal in a relatively short period of time, and with his work ethic and positive attitude, it's easy to see why. As he looks toward what should be a bright future, his only concern is continuing to give everything his all. "I just hope to keep working," he said, "like everyone in this business."
But while his goals might be the same, RJ isn't quite like everyone else - he's definitely someone special.
For more with RJ, be sure to follow him on Twitter (@RJMitte).