Rivers Cuomo Judging Digital Art Competition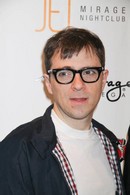 Weezer frontman Rivers Cuomo has asked fans to get creative for a new computer art contest he is judging.

The rocker is teaming up with electro music producer Deadmau5 to preside over the Adobe Imagination Challenge.

The competition requires entrants to use Adobe computer software to produce an inspiring work of digital art showing the "power and depth" of their imagination.

The panel will pick five winners to receive $10,000, while 36 others will receive $550 for their submissions.