Rising Star Emma Stone Gets Serious In 'The Help'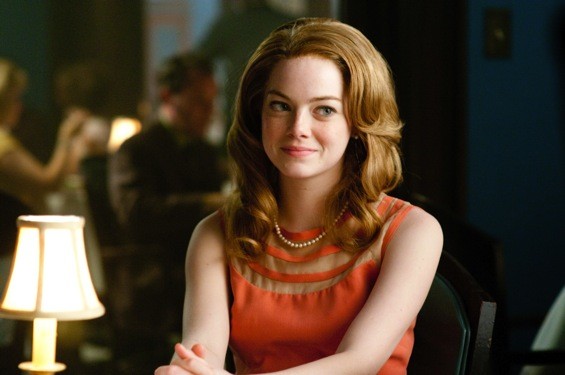 Emma Stone is having a very good year to say the least. In fact, the last couple of years have been increasingly successful for the actress who is pretty much everywhere you look. In 2011, she has appeared in "Crazy, Stupid, Love." as the hard-to-get love interest of Ryan Gosling as well as making a cameo in "Friends With Benefits" with Justin Timberlake. This week, her new film "The Help" hits theaters and will give audiences their first look at Stone in a more serious role in a film that deals with much more serious topics than her previous work.
The 22-year-old actress is pretty much the personification of the overnight Hollywood success story. Growing up in Scottsdale, Arizona, Stone was incredibly passionate and driven from a young age. She famously begged her parents to let her move to Los Angeles via a PowerPoint presentation she put together and presented in their living room. The ploy worked. Stone and her mother relocated to California where, initially, Stone had trouble landing any gigs. A break almost came when she was cast in the pilot for a new "Partridge Family" show. Unfortunately, it was not picked up and Stone continued to audition.
After making one-episode appearances on shows like "Malcolm in the Middle" and "The Suite Life of Zack and Cody," Stone landed a role on the short-lived Fox series "Drive." The show was quickly cancelled, but Stone's career was just taking off. In 2007, she stole audiences' attention (and hearts) as Jonah Hill's love interest, Jules, in "Superbad." Not only was she adorable and funny, but the actress was able to keep up with the R-rated comedy and Hill, who had become the go-to scene-stealer.

Stone continued to appear as a supporting player in comedies like "The House Bunny" with Anna Faris and "The Rocker" with Rainn Wilson, but 2009 would show the world she was no longer just a second string performer. In "Zombieland," Stone played Wichita, a young con woman who, with her younger accomplice Little Rock (Abigail Breslin), make life hell for two men (Jesse Eisenberg and Woody Harrelson) in a post-apocalyptic, zombie-ridden world. Here, Stone was given not only her largest on-screen role to date, but her most fully-developed character. The result is a performance that is both wholly convincing and totally hilarious.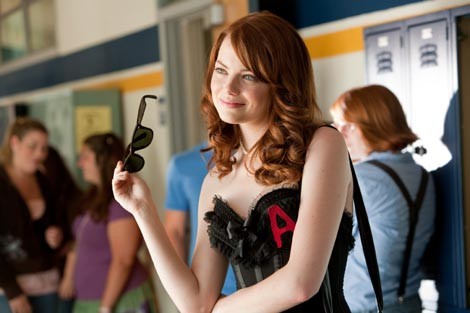 The next year, Stone earned her first starring role as Olive in "Easy A." The role was risky for a number of reasons. First, it was her lead role which would essentially carry the entire film. Second, it relied as much on her comedic delivery as her physical performance which included plenty of slapstick. Though plenty of young men had already fallen in love with her, Stone was not yet a full-fledged sex symbol. "Easy A" changed that. As a high school student who chooses to live the lessons learned in "The Scarlett Letter," part of Stone's performance involved wearing very revealing and provocative clothing. Luckily, this did nothing to distract from her wonderful performance which earned her a Golden Globe nomination.
With "The Help," Stone has positioned herself to be a serious actress who is here to stay. Next year, she will star as Gwen Stacy opposite Andrew Garfield in "The Amazing Spider-Man" which might lead to her first franchise role. She will also appear in the experimental, multi-vignette film "Movie 43" with a dozen or more other stars. Currently, Stone is preparing to re-team with "Zombieland" director Ruben Fleischer and "Crazy, Stupid, Love." co-star Gosling for the film "The Gangster Squad" which will hit theaters sometime in 2013.
For now, though, you can enjoy her with Viola Davis and Bryce Dallas Howard in "The Help" which opens today.