Rima Fakih Strikes Plea Deal In DUI Case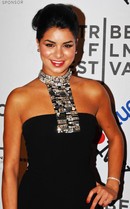 Former Miss USA Rima Fakih has pleaded no contest to driving while visibly impaired following her arrest in December.

The disgraced pageant queen was arrested in Detroit, Michigan on suspicion of drunk driving on December 3rd and, according to cops, Fakih had a half-empty bottle of wine behind her driver's seat and a blood alcohol content more than twice the legal limit.

On Wednesday she struck a deal with prosecutors - just hours before she was due to stand trial for the incident - and agreed to plead no contest to the misdemeanor charge. In return, lawyers dropped the more serious count of operating a vehicle while intoxicated.

If convicted, Fakih faces up to 93 days behind bars when she is sentenced on May 9th, according to TMZ.com.

The 26-year-old beauty was the first Arab American to be crowned Miss USA back in 2010.