Rihanna's 'Russian Roulette,' Drama, Chris Brown's New Video 'I Can Transform Ya' And More

Weekly Music News:
Def Jam's decision to keep the world in the dark regarding singer
Rihanna
's single "Russian Roulette" may have back fired; an explanation about this in a minute.
Beyonce
and
Lady Gaga
team-up part deux,
Chris Brown
premiere's new video, and Rihanna on Good Morning America round's out this week's music news.
Beyonce to be featured on Lady Gaga's "Telephone"
These ladies clearly have some kind of obsession with phones. It was announced a few weeks ago that Beyonce and Lady Gaga are set to appear in Beyonce's video for her song "Video Phone" - a song that appears on her album I Am…Sasha Fierce. According to Universal Music Group, Beyonce will also be featured on Lady Gaga's song "Telephone" from her upcoming album Fame Monster that is due in stores November 23. As reported, Beyonce's video for "Video Phone" is scheduled to premiere on November 11.
The Game changes name
The Game who first started out as a member in rapper
50 Cent
's group
G-Unit
is ready for a change, a name change that is. According to AllHipHop.com, The Game will drop the "the" at the beginning of his moniker and will just go by "Game"; not a big change but a change none the less. The new name will be displayed on his new album titled The R.E.D. Album that is scheduled for a December 8 release. The R.E.D. Album boasts appearances from Chris Brown,
Timbaland
,
Akon
,
Rick Ross
, and the king of name changes Diddy.
Is Rihanna's "Russian Roulette" satanic? Ne-Yo and the song's producer speaks out
In case you missed the latest drama regarding Rihanna, here is a quick brush-up. Rihanna has been under fire for her song "Russian Roulette" and the hidden meaning behind the lyrics. Singer
Tiffany Evans
(most notable for her single "Promise Ring") went on a Twitter rant the day after the official release of Rihanna's single. In her rant, Tiffany said that the suicidal rate will rise as a result of Rihanna's song which holds "dark" lyrics with the ending of the song concluding with a single gunshot. Tiffany also implied that there is a brainwashing and corrupting group within the music industry that worships the devil. The producer of "Russian Roulette" was not tickled by Tiffany's comments and decided to unleash his own fury via Twitter. Chuck Harmony had this to say about Tiffany's accusations.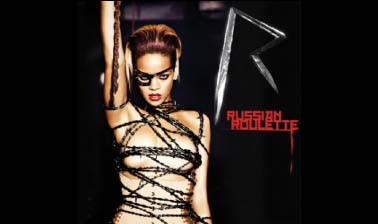 "There are no satanic messages in the music. Maybe if we did a remake of 'Promise Ring', then Rihanna wouldn't be a devil worshipper. People are so closed minded. The song is not literal. Like most provocative art, its symbolism. Grow up. I'm never going to defend my art…I create it and then it's out of my hands. So reviews don't hurt me, but Tiffany's unrealistic take on the song really irked me because idiots breed idiots. Bottom line, she is in the music business so she understands that the song is not indicative of the artist views, but rather, it's the brainchild and vision of the songwriter and producer. With that being said, to use that song as a shining example of devil worship in the music business, you are saying that Ne-yo and Chuck Harmony are devil worshippers. That's stupid!! That's beyond stupid, it's immature. Artist should understand art. So with Tiffany Evans' rant, I can safely say that the title artist should not be part of her bio."
The songwriter for "Russian Roulette" who happens to be singer
Ne-Yo
, also spoke out about the supposed demonic lyrics and explains that though the lyrics may seem dark, it is only a metaphor.
"I'm listening to the track, and all I can see is Rihanna and some random person sitting across from each other at the table with a gun sitting in the middle of the table and playing Russian roulette. And I just started thinking, 'What would go through your mind if you was in that situation?' I played it for her, and she loved it...It's definitely dark, but if you think about it, 'Thriller' was dark, but it's one of the biggest-selling records of all time. Nobody's really going out to play Russian roulette or thinking about killing themselves or nothing like that. It was just an interesting topic over a crazy beat, and who better to pull that off than somebody like Rihanna?"
Rihanna's video for her song "Disturbia" doesn't help with the devil rumors now does it? Are the lyrics to "Russian Roulette" too dark or are fans taking the lyrics way too seriously?
Rihanna to interview with Good Morning America
Speaking of Rihanna, the singer is scheduled to sit down for an interview on Good Morning America on November 23 - the day of her Rated R album release according to a rep from ABC. She is allegedly set to talk about the incident between she and Chris Brown but don't hold your breath; Chris has continued to remain tight-lipped about what happened in that Lamborghini the morning of the Grammy's, so there is little chance Rihanna will be vocal. Rihanna is also set to perform her new single "Russian Roulette" on the same show. Her next confirmed single will be "The Wait Is Ova."
Video Premiere:
Chris Brown ft.
Lil Wayne
&
Swizz Beatz
- "I Can Transform Ya"
Here is the new video from Chris Brown for his song "I Can Transform Ya" that features Lil Wayne and Swizz Beatz off of Chris's album Graffiti due in stores December 15.
Story by
Samantha Greaves
Starpulse contributing writer