Rihanna's Lingerie Fever Rages On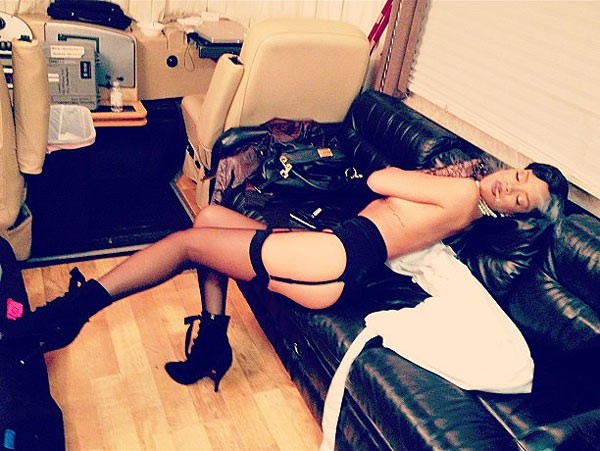 She set the ramp on fire in Victoria's Secret Annual show in downtown New York, not just with her live performance but also with her own lingerie show backstage, posing topless. Rihanna's back with another shot in a lingerie, self clicked of course (she's already proved her photographic skills to us with series of her topless pictures) posting it on Twitter (as usual the Twitter molestation by celebs continues) on Thursday.
Customary as always, looking for a piece of the action; Rihanna was spotted the same night heading to join her hair stylist Ursula Stephen's birthday bash at the Boudoir night club in New York City. Donning a black trench coat with black leather trouser & round sunglasses with 'Chanel Paris' imprinted on them, Rihanna revealed no signs to a packed schedule.
Following her show in Victoria's Secret, Rihanna launched her music video for her first single 'Diamonds' off her album 'Unapologetic'.
RiRi was quoted in a Facebook Live interview with Andy Cohen that she's not back with her ex Chris Brown, although she remains on good terms with him; however she's yet to decide on their future together.
Rihanna was quoted saying "Basically the way I look at everything regarding my personal life. Even though you have to witness it, it still is mine. This is mine at this point, and when it gets to my music, I'll give and I'll give, and I just feel like I need to keep a little bit for me that I get to decide. If I had it my way, it would be really nobody's business."
Checkout the complete event gallery of the sexy Victoria's Secret fashion show here: