Rihanna Tweets Topless Photo From Set Of New Video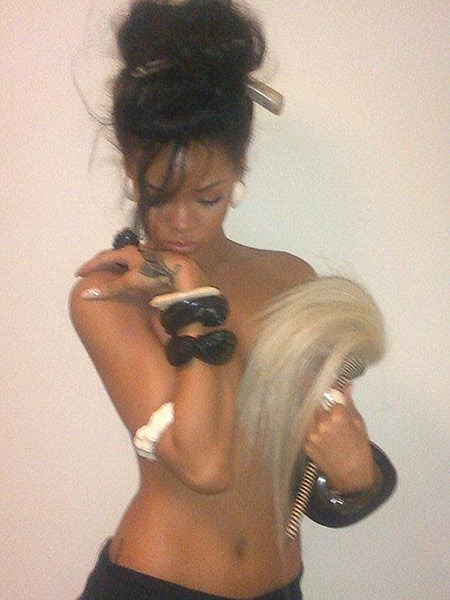 "Where have you been all my life?!" Rihanna tweeted on Thursday morning - presumably after getting a little bored on the set of the video for her next single, "Where Have You Been."

So the Bajan singer decided to share a topless self-portrait to break up her long day. She tweeted, "Video shoot goin MAJAH!!! Longest day everrrrr tho!!! #WHEREhaveUbeen #stillgoin" shortly after sharing the pic.

The choice to go topless may have been in response to a recent interview her father, Ronald Fenty, did for Heat magazine.
"I actually thought she was a little fat the last time I saw her," her dad told the publication. "When I saw her this time, I thought she was back to her normal size."

"I used to joke with her, 'Robyn, you're getting too fat!' but I think she's fine," he adds. "I think she looked excellent, as everyone saw, at the Grammys."

The singer, who came under fire last month for featuring ex-boyfriend Chris Brown on her single "Birthday Cake", has also been making headlines for her support of Invisible Children and viral video "KONY 2012", which raises awareness of Ugandan militant Joseph Kony (more info on that here).
Rihanna is among several A-List stars supporting the cause, including George Clooney, Angelina Jolie, Bono, Justin Bieber and Taylor Swift.