Rihanna Tweets Sexy Bikini Pics From Hawaiian Vacation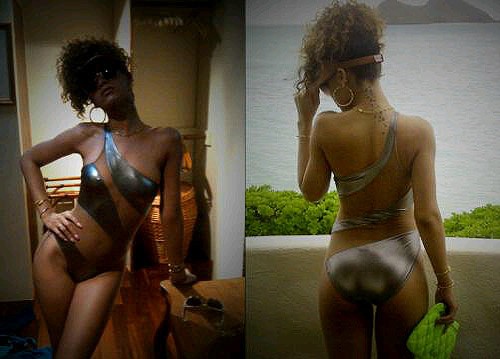 Rihanna's been taking a break in Hawaii this week and has posted no shortage of photos of herself in skimpy bikinis on her Twitter page to keep her fans happy!

The Bajan singer came under fire last week for some recent photographs that showed her smoking what many suspected to be a certain illegal substance, something the "Umbrella" singer didn't deny, but rather alluded to via messages on Twitter.

Last Thursday, she tweeted, "4:20... Hi" (4:20 being a slang term for smoking pot that began in California in the 1970s), and then she dropped another hint on Sunday with the message, "Kush rolled, glass full... I prefer the better things!" (Kush is an Afghan strain of cannabis). And on Wednesday, Rihanna posted pics of herself in a silver twist one-piece with the message "Wake...Bake...#CAKE," yet another reference to smoking the Maui Wowie.

One might wonder how Ri-Ri can get away with getting stoned on the beach in Hawaii, and that's because in 2008 the Aloha State made possession of the substance a "low priority" for law enforcement officials. Adults there are allowed to possess up to 24 plants on private property for personal usage, and the state's Big Island no longer accepts government funds for marijuana eradication.

Rihanna's recent batch of sexy photos included messages like "Strike a POSE," "We #SWAGGIN, We Surfing!!" and a random shout-out to socialite Khloe Kardashian ("Haaaa!!! Come tap this @KhloeKardashian") which she later edited to just say, "#SNAP."

The singer recently confirmed that she'll be performing "Princess of China," her hit collaboration with Coldplay, at this year's Grammy Awards. The track is from the band's latest album, "Mylo Xyloto."

"#RihannaNavy My friends @ColdPlay and I will be sharing the stage for a performance at this years Annual Grammy Awards! #BONKERS" she writes.
Check out more of Rihanna's Tweets right here on Starpulse, or head over to her Twitter page if you want to follow @rihanna.
More pics after the video...