Rihanna Tweets New Photo Of Herself With Chris Brown Despite Break-Up Rumors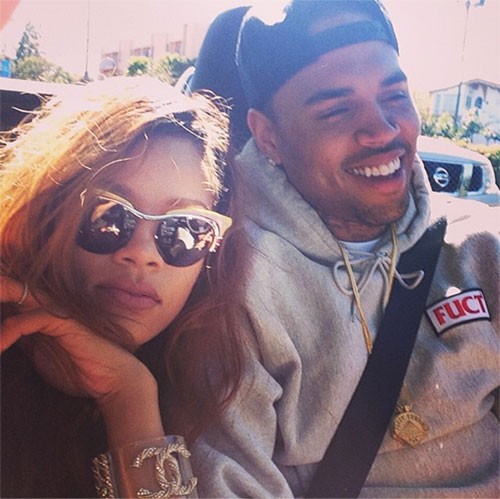 The "are they or aren't they" rumors about Chris Brown and Rihanna appear to have been put to bed...for the moment. Late Wednesday the Barbadian beauty posted a photo of herself and Brown with the caption "this s**t look like a toupee," quoting some lyrics from his song "Look At Me Now."
A source told E! News earlier this week that the couple split up because Rihanna wanted to refocus her attention on her career and business ventures, including her fashion line and fragrance launch.
This comes after Rihanna asked Los Angeles concertgoers on Monday: "How many of you are in love? How many of you hate love? How many of you don't f**king understand it? I'm in that group. The confused group."
The message here seems to be that love can be messy sometimes. And even celebrities have trouble with romance.
Brown was recently interviewed by Matt Lauer on "Today," and he talked about the 2009 incident in which he assaulted the pop star the night before the Grammy Awards. He explained: "Most importantly...knowing that what I did was totally wrong and having to kind of deal with myself and kind of forgive myself in the same breath and being able to apologize to Rihanna."
Can the couple overcome the obstacles of their past? Only time will tell.