Rihanna Tweets Bikini Pics From Coachella; Calls Tupac 'Resurrection' A Story For Her Grandchildren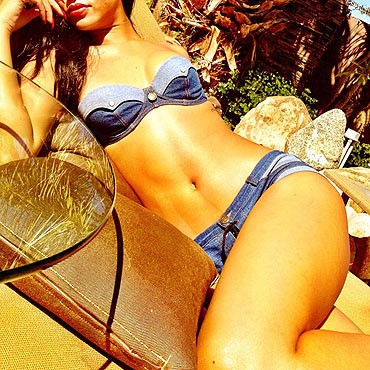 Rihanna had some fun in the sun over the weekend at this year's annual Coachella music festival, posting several pictures to her Twitter page to share her experience and show off her hot bod.

The sexy singer took the stage with DJ Calvin Harris for a set last night, but during the day spent time in a denim bikini.

The Bajan singer also caught Snoop Dogg and Dr. Dre's performance, which featured a hologram of the late Tupac Shakur performing "Come With Me, "Hail Mary" and "Gangsta Party" with Snoop.

"#TupacBACK #unbelievable #IWASTHERE #STORY4myGrandKidz," she wrote on her Twitter page following the show. "This turned out to be one of the best nights of my life #BuffaloSoldier #ThugLife #EPIC."

The rapper was shot and killed 15 years ago in Las Vegas.

The Coachella Valley Music & Arts Festival draws in lots of celebrities each year, and "badgirlriri" (as she calls herself via her Instagram photo page) was just one of several big stars who showed up for the weekend of music.

Katy Perry was spotted showing off her black bra and granny-panties in a see-through dress on Saturday; while Paris Hilton flashed some skin in a bikini top and hippie dress.

Other stars spotted at the festival included actor Josh Duhamel and wife Fergie, Usher, Lindsay Lohan, and even Pierce Brosnan.

Plenty of celebrity lovebirds were spotted at the event also, including Emma Roberts and Chord Overstreet, who recently rekindled their romance; Vanessa Hudgens and her new beau Austin Butler; and Bling Ring star Emma Watson, who was spotted getting close with a mystery male.


Rihanna was spotted in the crowd at Snoop and Dre's performance. Check out the video below and a pic she Tweeted from her bird's eye view on the following pages...