Rihanna Shows Off Her New Chest Tattoo In A Colorful Bikini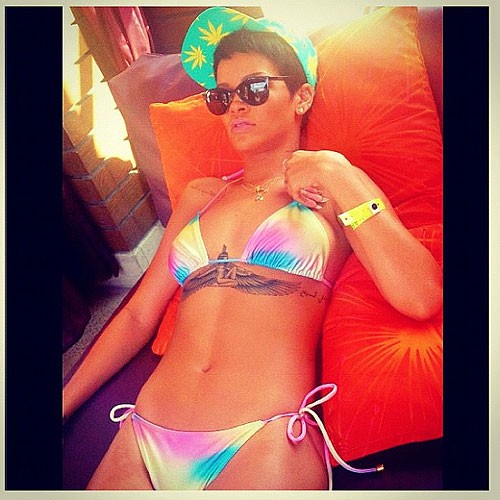 Rihanna has never been one to shy away from showing lots of skin on her twitter page. The singer posted a shot of herself in a colorful bikini that showed off the new Isis tattoo on her chest in her latest batch of instagram pics.

The "Umbrella" singer got the new ink two weeks ago as a tribute to her late grandmother Clara "Dolly" Braithwaite, who died July 1 after losing her battle with cancer.

The goddess is known as a protector of the dead, the ideal mother and wife and the patron of magic and nature.

She also posed poolside with her best friend, Melissa Ford; shared a pic from this year's iHeartRadio festival in Las Vegas; and did a little work "from bed" (click through to see them).

"I love my job," she writes.

She also shared the cover artwork for her next single, "Diamonds" -- an image of her hands holding a rolling paper filled with diamonds, made to looke like she's rolling a joint. It's no secret she's a fan of marijuana -- just look at her hat in the image above.

Last week she tweeted a picture of herself getting a lapdance from a nude stripper.

She's such a great role model!