Rihanna Shares Topless Photo & Close-Up Of Her Butt In A Sexy Denim Thong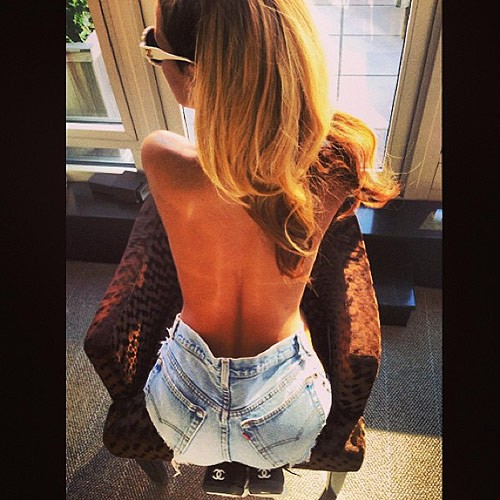 Rihanna posted a photo of her butt in a denim thong from the set of her latest music video on her Instagram page Wednesday, but the singer quickly deleted it afterward. She didn't take it down before it spread like wildfire across the internet, though.

The 25-year-old singer, who is no stranger to posting racy shots for her fans, shared the photo from her "Pour It Up" video shoot.

"And that a #wrap !!!!" she wrote.

Riri's BFF Melyssa Ford also posted several behind-the-scenes photos to her Instagram page showing Rihanna dressed like Marilyn Monroe for the strip-club anthem's promo.

The singer posted a similar photo (see both on page 2) back in march, going topless and wearing her new pair of Prada boots with a black thong and thigh-high stockings.

"Gotcha b*tch tip toeing on my marble flo'!!!" she wrote. "Sick a** custom Prada boots! Miuccia you RULE!!! Thank you."