Rihanna Shares Photo Of 'Family Guy' Peter Griffin Wearing Her See-Through CFDA Gown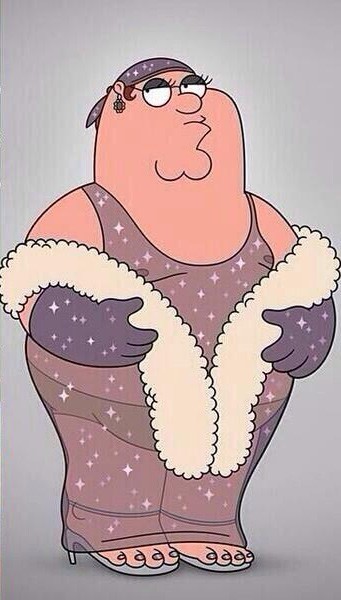 Who wore it better: Rihanna or Family Guy Peter Griffin?

The singer shared a side-by-side image of herself with the animated TV character wearing the same, now infamous, see-through dress that Ri-Ri wore on the red carpet at the CFDA Awards Monday night.

The Bajan singer had the internet buzzing Tuesday morning when photos of her were released online and revealed that she left little to the imagination in a shimmering, curve-hugging see-through gown and just a nude thong on underneath.

The singer's exposed backside and her nipples were clearly visible in the dress, which showed off why she won the 2014 Fashion Icon award at the event.

"As long as I can remember, fashion has been my defense mechanism," she said while accepting her award. "As a child I remember thinking, she can beat me but she cannot beat my outfit... You will never be stylish if you don't take risks."

Animators for the hit FOX series whipped up the Griffin family patriarch in the same outfit, which Rihanna got a kick out of.

"He gets it," she captioned the image on her Twitter.

See the full nsfw photo on the next page...