Rihanna Shares Another Sexy Photo While Vacationing In Her Native Barbados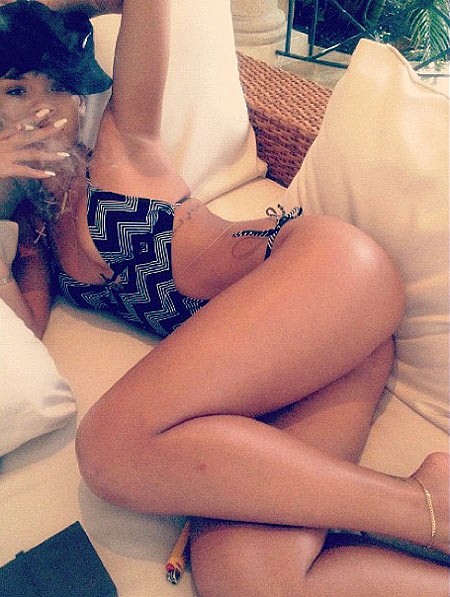 Rihanna's been taking some time of in her native Barbados lately; and the singer shared a photo of herself in a skimpy cutout swimsuit to her Instagram page on Saturday.

RiRi poses seductively in the shot, showing plenty of leg and smoking something we assume isn't a cigarette, judging by the way she's been advocating marijuana use lately.
She's even taken to making her own style of the popular do-it-yourself someecards that everyone seems to post on Facebook and Twitter. Hers are called "RCards" and her latest reads, "I love smoking weed after a long day of smoking weed."
Spoken like a true stoner.

Rihanna was also spotted hanging out on the balcony of her suite at the Cove Springs Villa partying with friends. Police were called to the villa on Sunday because of a trespasser on the property, according to TMZ.com, but the man, believe to be German, had left the scene before they arrived. It was determined that he wasn't a threat, but the authorities would like to speak with him anyway.

The "Diamonds" singer recently donated $3.5 million ($1.75 million US) to the Queen Elizabeth hospital in Bridgetown, Barbados in memory of her late grandmother, Clara "Dolly" Braithwaite.

"This was my way of giving back to Barbados, in a form of philanthropy, by assisting the QEH in its continued modernization program," she said via a statement.

"I believe that this will have a huge impact on the people of Barbados. This was all done to save lives or at least extend them."
More pics of Rihanna in her swimsuit after her "RCard"...