Rihanna Says She's Afraid To Love Again Despite Dad's Blessing To Get Back With Chris Brown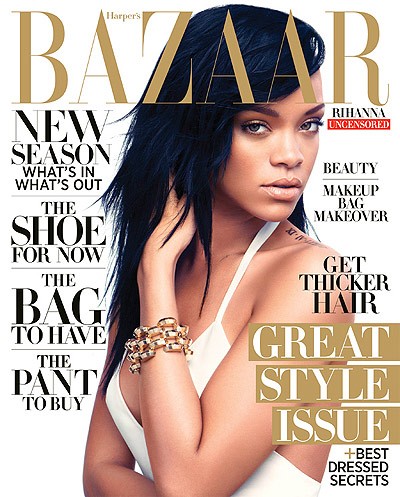 Rihanna opens up about her relationship with Chris Brown in the August issue of Harper's Bazaar magazine, revealing some very personal thoughts about how the former couple's relationship has affected her.

"When I was in love, I fell so hard. I was really, really, really in love. The way it made me feel was priceless. And in a blink of an eye my whole life changed. Everything that I knew was different. I never thought I'd feel that pain in my life. I'm afraid of feeling that again," she says.

The 'blink of an eye' she speaks of is the night before the 2009 Grammy Awards when Brown beat her during an argument in his car. Since then, Rihanna calls her love life "nonexistent."

"If I come across someone who I find really cool, I'll hang out," she says. "But the minute I find that we're getting too close I just — I don't let people in."

She's also well aware that people were shocked that she would collaborate with Brown on her single, "Birthday Cake" earlier this year, saying she didn't think it would be that big of a deal.

"I understood that people had every right to be concerned about it," she says. "But I didn't see it that way because I'm in a different place."

But despite being "conservative" in her personal life, she says her life in the spotlight allows her to be rebellious "through my music, through my fashion, tattoos, and my hair."

Rihanna's dad, Ronald Fenty, made headlines earlier this week, telling Britain's Grazia magazine that he would give his daughter his blessing to get back together with Brown.

Fenty says, "Chris has matured a lot. I think everybody has to put the past behind them. And they seem to have done that.

"Being a couple is all up to her. Every decision is her decision. I just wish her the best. I hope things will work out. Everyone is entitled to make a mistake. Her fans are hoping it will happen. They see them as a perfect couple."

Brown's dad wouldn't be as approving if the couple were to get back together, though.

"[Chris] can make his own decisions," he says. "But, as a concerned parent, I would rather they not have any involvement... Sometimes you need to cut the strings and move beyond the past."

Read Rihanna's full interview in the August issue of Harper's Bazaar, on newsstands July 17; and see more pics from her photoshoot at HarpersBazaar.com.