Rihanna Removed From Abu Dhabi Mosque Following Forbidden Photoshoot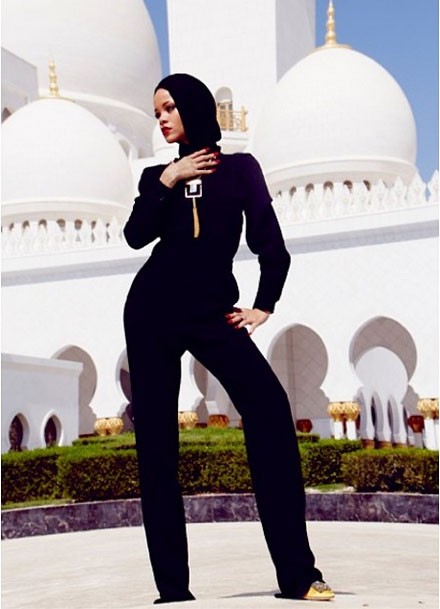 Rihanna stirred up controversy over the weekend after she posed for a photoshoot at the Sheikh Zayed Grand Mosque in the United Arab Emirates without getting permission.
UAE is an Arab country on the Persian Gulf, boardering Oman, Saudia Arabia, Qatar and Iran.
During the photo session, the singer wore a head-to-toe black ensemble and covered her hair, which the mosque requires. She jazzed up her look with bright red lipstick and fingernail polish.
However, the pop star and her crew reportedly didn't follow the rules and were forced to leave the premises.
The Sheikh Zayed Grand Mosque Center to The National issued the following statement: "The Center strives to ensure that visitors enter the mosque in a decent fashion, and refrain from behaving in any way that is inconsistent with the sanctity of this religious place.

"Here, the Center refers to a recent incident, involving a singer who came for a private visit to the mosque, at a gate that is not reserved for visitors, without prior coordination with the Center's management and without identifying herself.

"She was directed by visitor services to proceed to the visitors' main gate and take the guided tour, according to procedure.

"She left without entering the mosque, after being asked to do so, due to the fact that she had taken some pictures that do not conform with the conditions and regulations put in place by the Center's management to regulate visits in a way that takes the status and sanctity of the mosque into consideration."