Rihanna Procures A Crystal Marilyn Monroe Portrait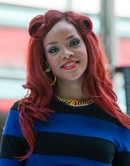 Rihanna has added to her art collection by snapping up a $160,000 Marilyn Monroe portrait - made of 65,000 crystals.

The Umbrella hit-maker commissioned British artist Claire Milner to create the giant piece, which took four months to complete and weighs 182 pounds.

Milner tells Britain's The Sun, "I tried to show the glitter of the public life and then the sadness in Marilyn's eyes. Because of who Rihanna is, everything had to be done through her interior decorators. But they told me afterwards that she loved it."

"A 100 per cent Swarovski crystal portrait is very luxurious - people stand and stare because it constantly changes color, sending rainbows round the room."

Rihanna has spent a fortune decorating her Los Angeles home, which features a gun-shaped chandelier and a Bob Marley tribute painting in her red, yellow and green 'reggae room'.