Rihanna Poses With Protected Primates In Thailand, 2 People Get Arrested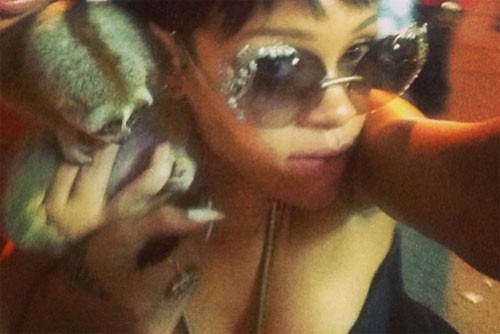 After Rihanna posed with a protected primate in Thailand, she inadvertently helped police make several arrests of individuals involved in illegal animal trading.
Last week, the singer visited Phuket during a break from her "Diamonds" world tour, and she posted images of her vacation on Twitter and Instagram.
 
On Friday, she uploaded an image of herself with a slow loris, a local squirrel-like creature that is considered a protected species. The photo prompted a police investigation into whether the animals are being illegally used as a tourist attraction.
According to the Associated Press, two men, aged 20 and 16, were arrested on Saturday on suspicion of possessing protected animals.
Phuket district chief, Weera Kerdsirimongkon, commented, "Phuket authorities were alerted to the picture (of Rihanna), and last night police arrested the two individuals who brought out the loris as a photo opportunity for tourists... It's like a cat-and-mouse game. But this time it's bigger because a celebrity like Rihanna posted the picture, and there were more than 200,000 'likes' from around the world."
If found guilty, the two suspects could spend four years in prison.
Rihanna also posted several bikini snaps of herself: