Rihanna Poses Topless On The Cover Of Her Seventh Album, 'Unapologetic'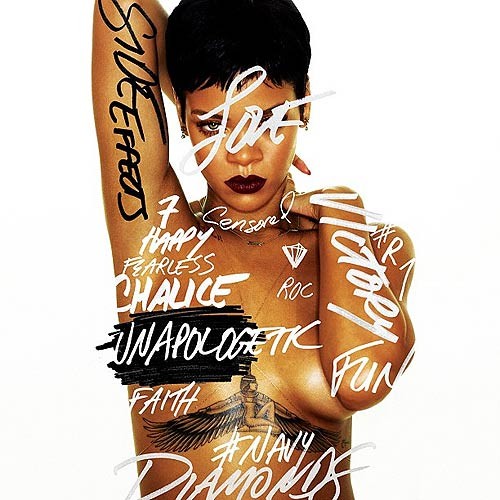 Rihanna drummed up some anticipation for the release of her upcoming studio album on Thursday by tweeting the album's cover and title to her fans.

The singer's seventh disc, titled "Unapologetic," features a topless photo of the star covered with strategically placed markings on her body; some of which we assume are names of the tracks on the new album.

"Side Effects," "Chalice," "Victory" and the title of her latest single, "Diamonds" are scrawled across the image, which also shows off her latest tattoo, a large depiction of the Egyptian goddess Isis below her breasts; one of which she hides with her elbow and the other with black magic marker and the title of the new release across it in white.

Ri-Ri launched her new website last week, Rihanna7.com; after which the site's title, "#R7" was rumored to be the name of the new album. It seems as if she's gone with something a little more pointed toward her recent critics and detractors who have come out in opposition to her renewed relationship with ex-boyfriend Chris Brown, who beat her mercilessly in 2009 after an argument the night before the Grammy Awards.

It seems that posing nude for album covers is all the rage lately -- Christina Aguilera recently showed off the cover of her upcoming album, "Lotus," which features the "Genie In A Bottle" star nude on the cover with her hair covering her breasts and a washed out light covering her lower half while she stands in the center of a giant pink Lotus flower.

Rihanna's "Unapologetic" hits stores on November 19th; while Christina's latest drops November 13th.


ALBUM TITLE #UNAPOLOGETIC instagr.am/p/QpZ1dvBM3G/

— Rihanna (@rihanna) October 11, 2012
ALBUM COVER instagr.am/p/QpTuWYBMym/

— Rihanna (@rihanna) October 11, 2012
My NEW album "UNAPOLOGETIC" will be released on NOVEMBER 19th WORLDWIDE #Navy

— Rihanna (@rihanna) October 11, 2012