Rihanna Nearly Spills Out Of Her Top At London's Hackney Weekend Festival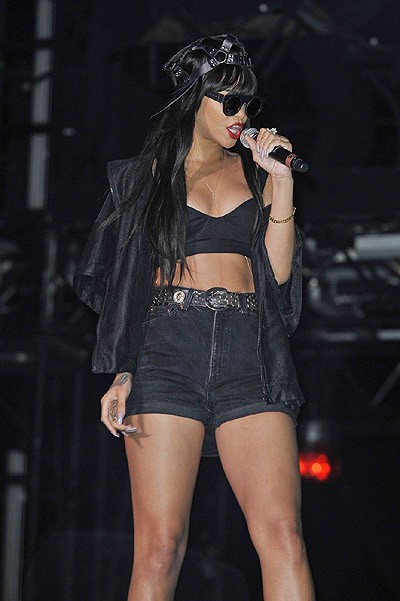 Rihanna joined rapper Jay-Z for his set Saturday night at the BBC Radio 1 Hackney Weekend festival at the Hackney Marshes in London and nearly exposed too much of herself - thanks to a skimpy black push-up bra.

The two superstars joined together for a rendition of their duet "Run This Town."

Jay-Z returned the favor Sunday night by joining Rihanna for her headlining set; during which she reportedly left the stage to greet fans in the front rows.

Things got racy when she asked an audience member to help fix a problem with her microphone transmitter, which was located in a very conspicuous place - in her bra.

"It's dropping out of my bra," she told the crowd. "I'll get one of my fans to help. You gotta be good, don't touch my bra, right!"

She then poked fun at the lucky concertgoer; saying, "I asked a gay guy to put this on my bra, I don't know if he's going to get this right."

Jay-Z joined her on stage for "Run This Town," "Talk That Talk," and "Umbrella."

Hackney, you f**king rock! I don't want to go, I love you guys so much," she told the crowd of 50,000 at the end of her set.