Rihanna Leaves Little To The Imagination In A Tiny Bikini Made Of Crystals And Feathers For Barbados' Crop Over Festival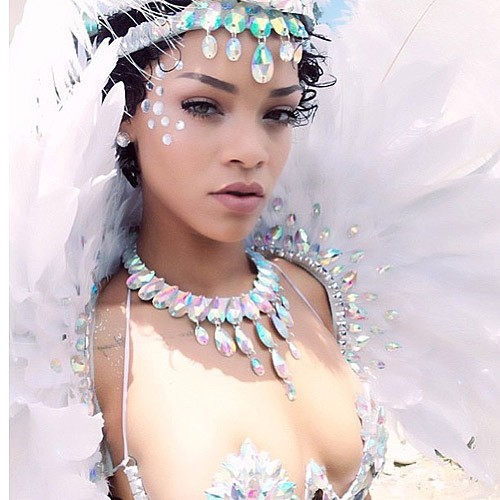 Rihanna celebrated this year's Crop Over festival in her native Barbados over the weekend, and on Monday she wore a very skimpy outfit and danced in the streets on the final day of the festival.

The singer is no stranger to the annual harvest celebration, having shown her curves there in the past in similar skin-baring outfits.

The island's traditional festival began in 1688 and is celebrated with Calypso music and dancing in the streets along with eating and drinking contests.

The festival began as a celebration of the end of the sugar cane harvest, but in modern times the festival is one big national party from June to the first Monday in August, known as The Grand Kadoomet, which culminates with fireworks and costumed bands marching in the streets and playing Barbadian music.

Kadoomet Day follows (and sometimes falls on) the country's Emancipation Day, the date of which, August 1, celebrates the end of slavery on the island.

Rihanna and best friend Melissa Forde walked the streets of Barbados nearly naked, wearing tiny jeweled bikinis and lots of feathers. Afterward they took a ride on the back of a truck and the singer sipped from a hip flask.

Check out more pics after the jump...