Rihanna Goes Topless For The February/March Complex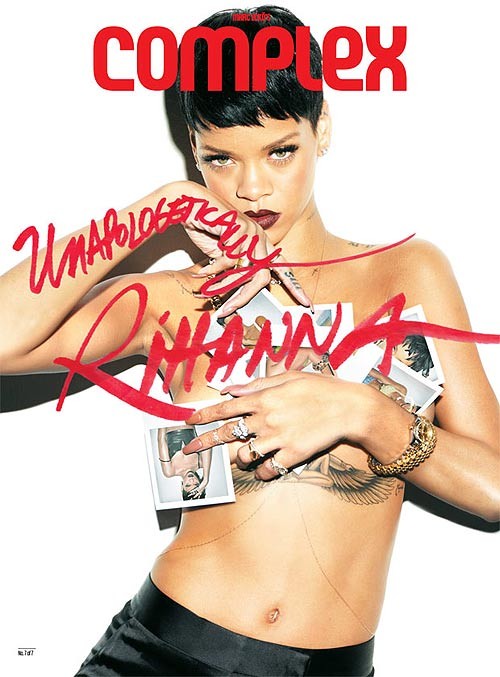 Rihanna celebrated her seventh studio album, "Unapologetic", by posing for seven different covers for Complex magazine's February/March issue.

The "Diamonds" singer's spread, titled "Full Exposure", is right on the mark when it comes to describing her affinity for social photography site Instagram. RiRi's posted plenty of racy photos of herself on the site, ranging -- literally -- from topless to bottomless. In less than a year she's amassed a collection of over 230 self-portraits, keeping fans in the know about her latest tattoos, smoking pot, pushing boundaries with ex-boyfriend Chris Brown or promoting her latest work.

"It's narcissistic, but whatever -- everyone does it," she says. "I'm capturing personality... Everybody has their thing they like or don't like to see. It's all in your head. That's why people take their own pictures, because it's difficult for someone else to capture what you seek."

The Bajan singer also posed for several racy, exclusive polaroid-style shots for the magazine, including a couple where she's lifting her shirt to show off her Isis tattoo and nearly exposing herself (see them here).

Rihanna also holds little back when it comes to the racy language she uses in many of the posts on her Twitter page. Her sixth album, "Talk That Talk", backs that up; but it all started in her childhood.

"We don't start the trouble, but that's how we're defending ourselves -- by saying some slick s**t," she says. "That's how I've always been. I was so rude when I was a little girl. I got my a** beat by my mother for that. Most of the time it was because of my mouth."

Check out the rest of Rihanna's cover shots and read more on Rihanna in the February/March issue of Complex and at Complex.com.