Rihanna Goes Topless For A Mythological Makeover As Medusa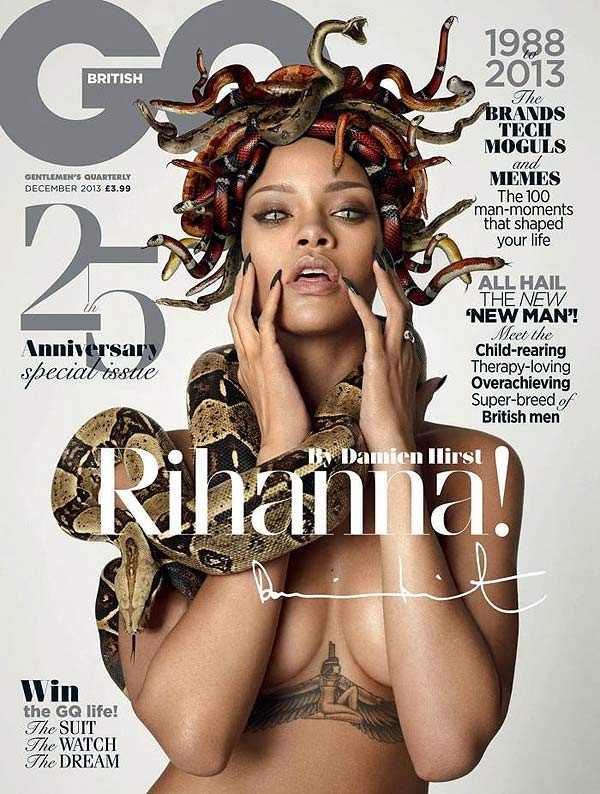 Rihanna has left little to the imagination in a new photo shoot for British GQ magazine.

Despite the issue being the December 2013 issue, the new shoot comes at the perfect time as the singer shows off her sexy curves dressed up as Medusa, wearing reptilian contact lenses, and accessorizing with plenty of slithering pals. The new issue, which celebrates the magazine's 25th anniversary in the UK, fittingly hits stands on halloween.

"Medusa head on me like I'm 'luminati!!!! She," she wrote with a shot of the cover on her Instagram page.

The singer also shared a few photos from inside the new issue, including one where she's had snake fangs digitally added to her scowl and holds two boa constrictors.

"I love playing with dominant animals! These 2 were double the trouble," she added, "but they're superstars!!!

Rihanna recently collaborated with rapper Eminem on his new track "The Monster" from his upcoming "Marshall Mathers LP 2" record, which is out November 5. It's not the first time the pair has worked together -- back in 2010 the Bajan singer was featured on Eminem's smash hit "Love The Way You Lie".

Check out the new single, along with a couple of scorching shots of Rihanna from British GQ, on page 2...