Rihanna Gets Tupac Tribute 'Thug Life' Tattooed Across Her Fingers While Wearing A John Lennon T-shirt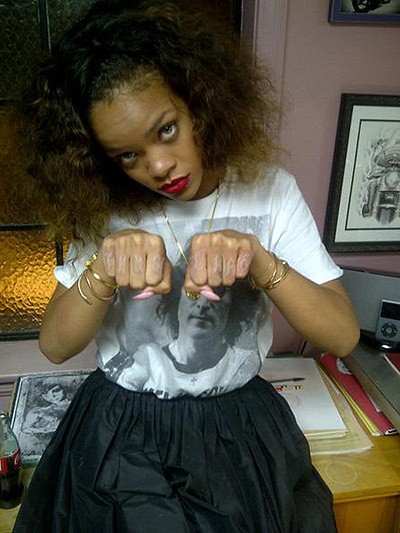 Rihanna's been spending a lot of time posting photos to her Twitter account lately. In the latest batch the Bajan beauty reveals that she's gotten some new body art.

This time the "Umbrella" singer payed homage to Tupac Shakur by getting "THUG LIFE" tattooed across her fingers while wearing a John Lennon t-shirt. For some reason we don't think the late Beatle would be a big fan of the gangsta rap stereotype.
The new tattoo - or should we say the eight new tattoos - mimic the same slogan the late rapper had inked across his stomach.
The singer also added some ink to her lower back while enjoying an ice cold beer. She tweeted, "My boo Mark Mahoney!!! #RockstarS*** #TATnight," about tattoo artist Mark Mahoney, who's done most of her work.

Mahoney's work also appears on celebrity human canvases including Angelina Jolie, Brad Pitt, Britney Spears, Johnny Depp, David Beckham and - ironically - Tupac's rap rival Notorious B.I.G..

The sexy singer also posted a shot with heavily inked Machete star Danny Trejo.


Rihanna recently posted numerous photos of herself in tiny bikinis while vacationing in Hawaii. Check out pics here.