Rihanna Gets Naked For GQ Magazine; Named 2012 'Obsession Of The Year'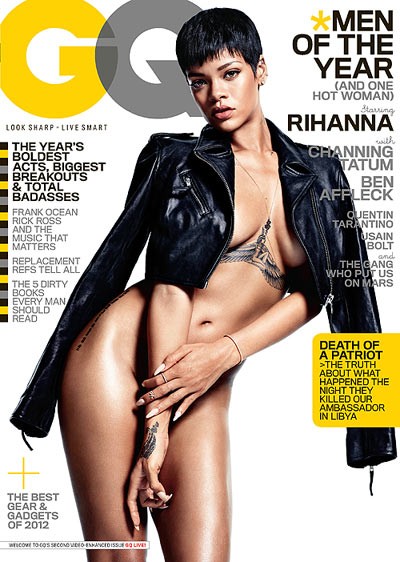 Rihanna has shed her clothes once again, this time posing for a hot new shoot for GQ magazine.

Named 2012's "Obsession of the Year" by the magazine, Rihanna posed naked sae for a small leather jacket over her shoulders and a couple of well-placed body parts. The "We Found Love" singer's new chest tattoo of the Egyptian goddess Isis is on full display, and things get even racier inside the December issue.

"Sometimes a person looks at me and sees dollars. They see numbers and they see a product, " she says. "I look at me and see art. If I didn't like what I was doing, then I would say I was committing slavery."

Interestingly enough, part of Rihanna's interview was done in New York City's Griffin nightclub in the West Village on the very night (Oct. 1) that stories began circulating about her and ex-boyfriend Chris Brown getting back together.

The two ex-lovers were both at the club that night, along with other celebs like Dave Chappelle and Chris Rock, and writer Jay Bulger reveals that the Brown's table was right beside theirs and both stars ended up getting up and dancing together.

Rihanna's seventh album, "Unapologetic," hits stores November 19th, and she's hitting the road on Wednesday to promote the new release on her "777 Tour": seven shows in seven different cities in seven days. She'll kick things of Nov. 14 in Mexico City and hit Toronto, Stockholm, Paris, Berlin and London before finishing up in New York City on Nov. 20.

"I am so excited about the 777 Tour," she said in a recent press release. "We are turning this jumbo jet into our tour bus. We're practically living on this thing for a week: sleeping, partying, all together. Me, my fans, the press...it's going to be a wild ride.

"I wanted it to be a rock n' roll adventure, and I think when it's over it will be the coolest thing I've ever done. I'm that excited about it."
The December issue of GQ features three covers, Rihanna, Channing Tatum and Ben Affleck. We're guessing the folks who get the Tatum or Affleck issue in their mailboxes are gonna be pretty pissed.

Check out more of Rihanna's interview (and lots more of Rihanna) in the December issue of GQ Magazine and at GQ.com.