Rihanna Gets Giant Tattoo Of Egyptian Goddess Isis Below Her Breasts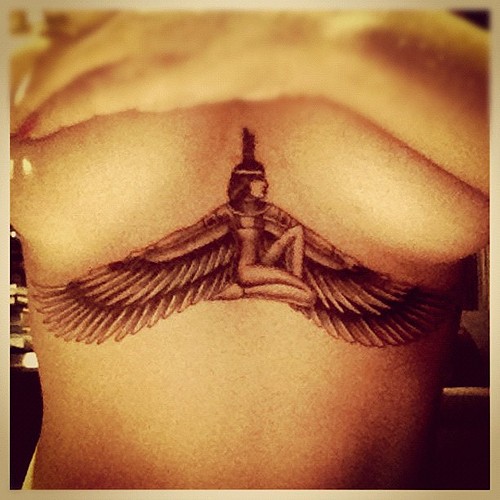 Rihanna got herself some more new ink while on her trip to London for a performance at the closing of the Paralympic games, where disabled athletes competed in numerous events similar to those in the Olympic games. The games were held in the city after the 2012 Summer Olympics concluded.

But before her big Sunday performance the "Umbrella" singer was out until 2:30am Saturday night, spending a late evening at a London tattoo parlor with her brother Rorrey; where the two were inked by an artist named Jordan.

Rihanna had a tattoo done as a tribute to her late grandmother Clara "Dolly" Braithwaite, who died July 1 after losing her battle with cancer.

The singer paid tribute to Dolly with a giant tat of Egyptian goddess Isis below her breasts (can't wait to see what that looks like in a bikini).

The goddess is known as the ideal mother and wife, the patron of magic and nature; and, among other things, a protector of the dead (learn more here).

"Goddess Isis- Complete Woman - Model for future generations- #GRANGRANDOLLY - always in and on my heart #1love" she tweeted.

Rorrey's tattoo is a bit of a mystery; although in one of Rihanna's recent pics he does say "Only Rihanna cud blindfold me n make me get a tatt n not see it till it's done."

As far as the Paralympics go, CBS news' Celebrity Circuit website reports that she told the crowd, "Being at the Paralympics is the biggest honor... These athletes are gladiators and are a true inspiration to me."

Jay-Z and Coldplay also peformed during the closing festivities; and both joined Rihanna on stage for part of her set.

During the performance, CNN talk show host Piers Morgan shared his thoughts about the singer's new hairdo.

"ps I think @Rihanna needs to grow her hair back. Fast," the Brit tweeted.

Rihanna, not too pleased with the comment; replied, "grow a d*ck..... FAST!!!!"