Rihanna Forced To Scrap Second Show Of World Tour After A Rocking Start In Buffalo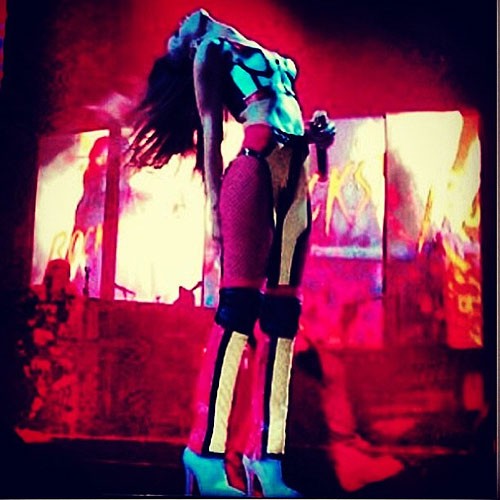 Pop superstar Rihanna rocked Buffalo, New York, Saturday night to kick off her Diamonds World Tour, but she was forced to postpone her second show, in Boston, Mass., on Sunday night.
The singer took the stage an hour late in Buffalo, starting her show at 10 p.m., but made up for it by rocking the crowd with a set packed with her biggest hits.

She performed tracks including "Rude Boy," "We Found Love," "Umbrella," "Only Girl (In the World)" and "Don't Stop The Music," during her set; capping off the show with lots of gratitude for fans attending the gig.

"You guys are all rock stars. There is only one first show, you all have a special place in my heart," she told the crowd.

Rihanna posted a few images to her Instagram page afterwards: one a close-up shot of her on stage and two others showing the packed house at the First Niagra Center. But the two shots of the sold out arena were captioned as though she was more appreciative of the money she made than the enthusiasm of her fans as she replaced a few of her s's with dollar signs.

"No words, just DIAMONDS!!! #EPICsh*t #BUFFALO $old out!!!" she wrote in one caption; while the other said, "Look wuh ya girl do!!! All I see iz $ign$."

"Buffalo I will never forget how you made me feel tonight!!!" she added on Twitter. "Thank you from the bottom of my heart!! 1 (one) love always. Diamonds World Tour we (are) just getting started!!!"