Rihanna & Chris Brown Spotted Kissing At NYC Nightclub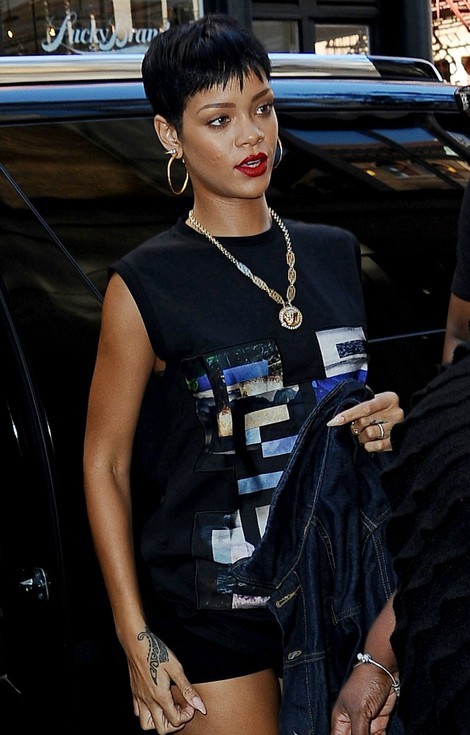 Rihanna and Chris Brown were reportedly spotted kissing in a New York City nightclub. The twosome, who broke up in 2009 after Brown beat up the singer following the Grammy Awards, can't seem to stay away from each other.
On Monday night, Brown was at West Village club Griffin with Bow Wow. Shortly after, Rihanna showed up and got her own table. A source close to the singer told E! News, "She knew he was there."

Brown left his table and sought out Rihanna, and for some reason he was shirtless. Depending on the source (E! News vs. Celebuzz), Brown either removed it himself or Rihanna pulled it off him. The duo then danced closely together and made out. They left separately; however, an eyewitness claims he saw Rihanna and Brown leaving the Ganesvoort Hotel together the next day.

It has been rumored that Rihanna offered to defend Brown at a court hearing regarding his probation. She tweeted last month, "Praying for you baby, my best wishes are with you today! Remember that whatever God does in our lives, it is WELL DONE!!! #1Love — @chrisbrown I'm praying for you and wishing u the best today!"

How many people call their friends #1Love?
Earlier in the month at the MTV Video Music Awards, Brown kissed Rihanna on the cheek in front of millions of fans. In August, Rihanna confessed to Oprah that Brown was the love of her life. So are they back together?

Brown is currently dating model Karrueche Tran, and she tweeted on Tuesday morning, "There's a difference between a man and a boy. I prefer men." Wonder what that means?