Rihanna Celebrates Her Upcoming Album, 'Unapologetic,' In A Bikini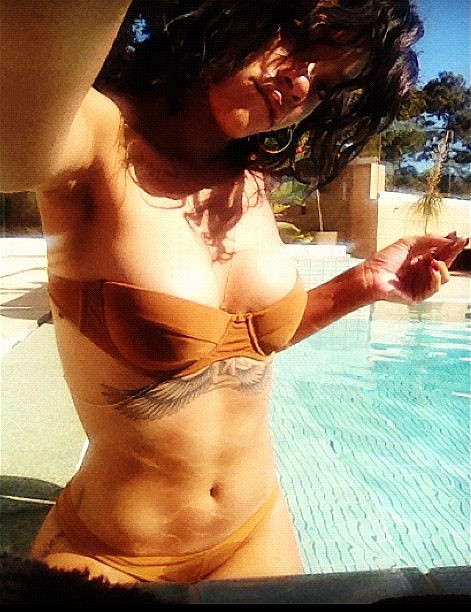 Rihanna took to her twitter account again over the weekend to share another photo of herself in a bikini. This one will surely help kick-start the buzz for her upcoming album, "Unapologetic" (Nov. 19).

The singer, who seems to love showing off her body and her body art, will also help hype the new disc with her "777 Tour" - an intimate string of gigs she's planned over seven days, in seven different countries. In addition to the bikini pics, RiRi's also been posting a lot of biblical quotes and inspirational passages to her twitter and instagram accounts lately, perhaps helping her come up with the '777' idea, as the number is tied to the bible and several religions (...or it may have something to do with offshore gambling and, well, she is from Barbados).

Rihanna's upcoming album features a deluxe edition with a bonus DVD containing live and behind-the-scenes footage. Sean Garrett, David Guetta, Swedish House Mafia and Ne-Yo all collaborated with the 24-year-old Bajan singer on the album.

"We havin a celebration.... WE HAVE AN ALBUM!!! #UNAPOLOGETIC" She wrote on twitter with the posted image.

Last week the singer hosted a Halloween party in Los Angeles. Ex-boyfriend Chris Brown showed up dressed as a terrorist.