Rihanna: 'All I Want Is A Guy To Take Me Out And Make Me Laugh For A Good Hour'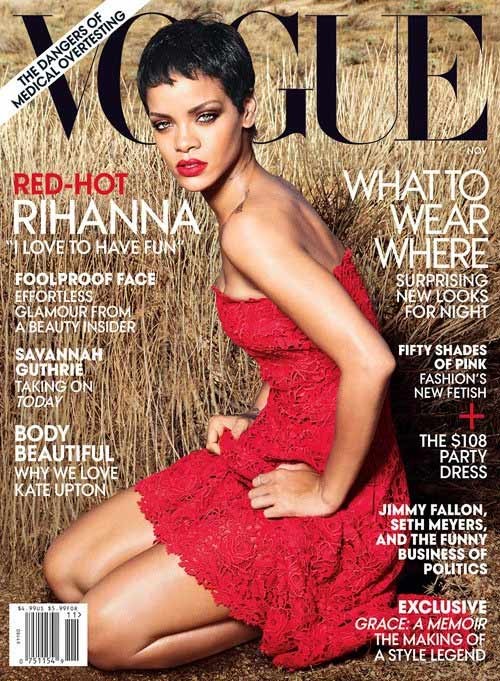 Rihanna's getting set to take the world by storm once again with her seventh studio album, "Unapologetic," and to help with the buzz for the new disc she's done a new photo shoot for renowned photographer Annie Leibovitz in the November issue of Vogue magazine.

The accompanying interview reveals that she's haunted by her recent collaboration and renewed friendship with ex-boyfriend Chris Brown, and she says that the public doesn't see the healing that's gone on in their lives after Brown brutally beat her on the eve of the 2009 Grammy Awards.

"To the world, I feel like there's no closure," she says. "There's some obsession that's continued even throughout when we weren't friends or couldn't be friends at all. Hated each other. The world hasn't let go. They haven't seen any progress in our friendship, because they don't see anything, really, besides the song."

Having Brown join her for the remix of her hit "Birthday Cake" was her idea, she says.

"I didn't think it could be anything detrimental to my career. I was on a tour bus ride between two cities, listening to my album, thinking, Oooh, maybe I should make this into a duet. And I started coming up with a bunch of people, and his name crossed my mind. I thought, We haven't made a song in so long together . . . it could be a little shocking," she explains.

The "Umbrella" singer also says she doesn't do anything "for the reaction," and despite reports that the two are getting back together she says that she hasn't dated anyone in over two years.

"I have not been on a date in forever. Like two years. Haven't gone to the movies, to dinner. Zero," she says. "I would love to go on a date. You don't think that? I'm a woman. A young woman, vibrant, and I love to have fun. And I have too many vaginas around me at this point.

"Seriously, all I want is a guy to take me out and make me laugh for a good hour and take my a** back home. He doesn't even have to come up. All I want is a conversation for an hour."

Check out Rihanna's full interview in the November issue of Vogue magazine and at Vogue.com. The new issue hits on newsstands everywhere October 23.