RiffTrax vs. Sharknado: Michael J. Nelson Previews Skewer Of SyFy's Cult Hit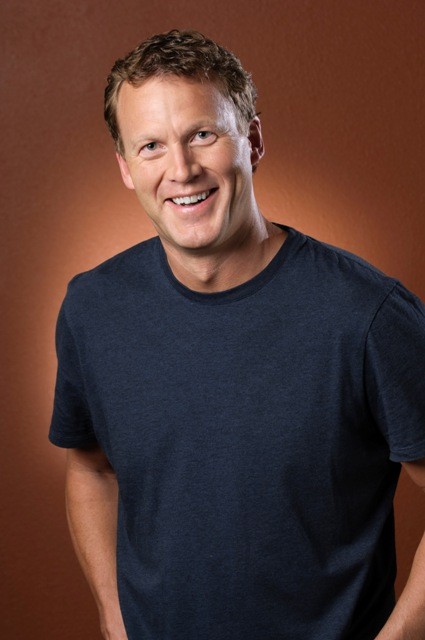 Yesterday, we brought you our list of 10 Movies So Bad, They're Good - well, no one knows a bad movie like Michael J. Nelson. He endured them for years as one of the stars of Mystery Science Theater 3000 and currently, alongside his friends and fellow MST3K vets Kevin Murphy and Bill Corbett, makes them bearable for us as RiffTrax. This week, the RiffTrax guys are taking on one of their best choices over: SyFy's cult sea life-disaster movie, Sharknado. We chatted with Mike recently to ask him how such a feat of genius happened.
"It was funny. We were deluged with people, even before it came out, saying you have to do this," he laughed. "And then, as it turns out, [Sharknado distribution company] Asylum approached [RiffTrax distributor] Fathom about doing a screening of it, and Fathom said chocolate, meet peanut butter here!"
For those of you who have not yet experienced the joy of a RiffTrax Live event, it consists of Mike, Kevin and Bill lending their hilarious comments to movies that deserve them. Asked which parts of Sharknado are the most riff-worthy, Mike told us, "You should stay for all of Tara Reid's scenes, of course.
"[But] she is not the worst performance in the film. There's a guy that plays their son [Chuck Hittinger] - Ian Ziering and Tara Reid are divorced in the movie, and they have a son...To out-fail act Tara Reid is quite a feat."
But seriously now, a lot of people have made fun of this movie - yet there have been a lot of bad movies over the years, and Mike knows most of not all of them. How does Sharknado really stack up against the worst of the worst?
"It's pretty bad, but it comes from kind of a long line," Mike explained. "This is not a new thing to do a cheeky, sort of winking title and film premise. We've been doing [1959 sci-fi flick] The Killer Shrews and just a bunch of dumb things.
"It does try to score points at trying to be a bit of an action film," he continued, "and there's a little bit of family drama, if you can believe it."
Things don't always come together as easily as RiffTrax Live: Sharknado, though. The RiffTrax guys have to secure the rights to each film that they want to lovingly skewer. We asked Mike what it's like for them to approach studios and filmmakers with the idea of poking fun at their movies.
"It's a little bit touchy," he admitted. "Not usually from the executives or anything, because they don't really have a lot of skin in the game, but they do want to protect their stars and directors, and I understand that.
"For the most part, we've been relatively tame with our comments," he continued. "We're not just spewing bitterness and hate. We feel affection toward these movies."
"Ever since we did the Kickstarter [campaign last year] and got Starship Troopers, that's kind of shown studios that we don't burn it to the ground," Mike laughed. "We don't ruin it. Your film still exists afterward."
Mike, Kevin and Bill have been working together like a well-oiled machine of hilarity for more than a decade now, and knowing that there will never be any shortage of questionable features, there's no end in sight for RiffTrax.
"We will still be doing it even if no one's paying us and telling us to go away," he chuckled. "I feel like we still have the chops...We have a full slate this year. We have [the 1998 version of] Godzilla and we also have Anaconda for Halloween."
That's right, this year we don't have to wait for the holidays to enjoy the next riff. RiffTrax Live: Godzilla will bow on Thursday, August 14, followed by RiffTrax Live: Anaconda on Thursday, October 30. From giant lizards to hordes of monster snakes and flying sharks, Mike and his crew have the whole mutant animal kingdom covered. So what does Mike think he'd do if confronted with an actual sharknado?
"I'm not really worried about these sharks," he told us, "because they've been spinning around at two hundred miles an hour in a tornado. They wouldn't be able to do much harm!" Unless, of course, someone makes a whole movie series about them.
RiffTrax Live: Sharknado is in select theatres in the United States and Canada this Thursday, July 10 with an encore Tuesday, July 15; for more information, visit the RiffTrax official site (rifftrax.com). For more cinematic flops we can't help but love, you can also check out our list of 10 Movies So Bad, They're Good.