'Riddick' Arrives: A Conversation With Co-Star Raoul Trujillo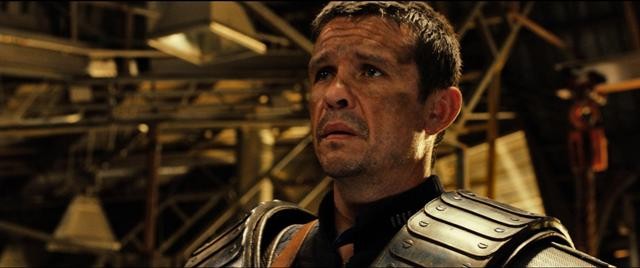 The Vin Diesel-led Riddick hits Blu-Ray and DVD Tuesday, and to celebrate, we're chatting with a few of the actors who helped bring the awesome sci-fi epic to life. On Friday, BFTV connected with Raoul Trujillo, who played Lockspur in the flick, to discuss what he loved about it and his lengthy, varied career.
Was Riddick as fun for him to make as it was for us to watch? "It really was," Raoul told us. "That's the thing about these green screen movies that aren't on location. They're just fun. None of this stuff is real. None of it's there. The cast was brilliant. And [it was] in my favorite city, Montreal."
"Kudos have to go to Vin and [director] David [Twohy] for taking it back," he continued. "They were able to really go back to what I think the mission of Riddick was at the very beginning - being driven by that particular story and those characters - and I thought that was great."
Zeroing in on his performance specifically, we asked Raoul to tell us what he was most proud of in the movie. "David and Vin sort of let me create my own mythology around the character," he explained. "There's one scene in there, when we go into the caves looking for Riddick, and they actually let me within that little moment [have] Lockspur basically being aware of what was going on. They let me make the choice to be a tracker. I start looking at these petroglyphs, and so by the end of the movie when we get attacked, I'm able to go to Riddick and say I know [what's happening]."
He also enjoys an aspect of the film you probably wouldn't expect: its humor. "It's highly entertaining and it's funny," he said. "There's just so many great one-liners and just really good entertainment."
Riddick is the latest movie in Raoul's career of more than twenty years, not just as an actor, but also as a dancer, choreographer, and artist. You've seen him in movies like Cowboys & Aliens, and TV shows including Strike Back, Lost Girl and The Unit. What other works would he point the Riddick audience toward? You've got three choices.
"Apocalypto is an epic film [and] it's a great, great character," he said. "One of my favorite roles that I did was a two-part miniseries of Moby Dick with William Hurt. It was probably the best version of Moby Dick since Gregory Peck. The New World is a great one."
"What I'm drawn to is not necessarily what always comes across," continued the actor, who'll next be seen in the lead role in the independent film 13 Steps. "Hollywood still wants to perceive people by  their names, by their ethnicity. I get a lot of Indian chiefs and drug lords, and that's getting kind of old. I'm still kind of waiting for a role that's not anything that I have done before, and that people aren't expecting me to do. I'll recognize it when I see it."
While he enjoyed his role in Riddick, Raoul also has an appreciation for movies that are a little more down to earth. "I do love doing the sci-fi [films], but I actually like human-driven stories," he told us.  "This year I was on the nominating committee for the Screen Actors Guild Awards, and the ones that got me the most are like August: Osage County and Labor Day. Incredible stories about human beings."
Riddick is available on Blu-Ray and DVD tomorrow. For more on Raoul Trujillo, you can visit his official website (raoultrujilloinfo.com).
(c)2013 Brittany Frederick. Appears at Starpulse with permission. All rights reserved. No reproduction permitted. Visit my official website and follow me on Twitter at @tvbrittanyf.