'Riddick' Arrives: A Conversation With Co-Star Jordi Molla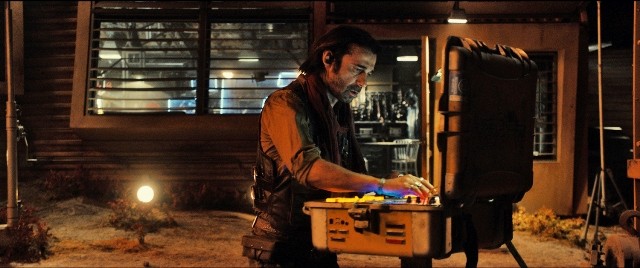 How would you like to be the person who has to go up against Vin Diesel? That was the job of Jordi Molla, who played the role of bounty hunter Santana in Riddick. BFTV recently chatted with the Spanish actor, director, writer and artist about serving as the antagonist to the Fast & Furious star, and getting punched in the face by Katee Sackhoff.
"I'd seen both movies but that was months and months before. I saw them and basically I forgot them," he said, explaining what it was like to join the Riddick franchise. "I thought that I had more than enough [information] with the script and the actors around and the vision of the director. [I wanted] to discover the role in the shoot - to have fun and to make a very grounded character with a crazy sense of a humor and with a very strange relationship with women."
That strange relationship is well illustrated in Santana's relationship with Dahl (played by Battlestar Galactica's Katee Sackhoff), who isn't afraid to take a swing at him. "When Katee punches me in the face, I said to the director, 'This is strange, David. A guy like this would kill her in one second. Why doesn't he kill her?'" Jordi laughed.
"There must be two reasons, [either] because he likes the girl or because he's a masochist, because he lets her kick his ass constantly," he continued. "That brought like a kind of very, very weird romantic side [to] my role and Katee's role. There were these little smiles [and] the fight on the floor, it's kind of sexy. I would say to the audience, pay attention to these kind of details in my performance."
As if that wasn't enough, Santana also makes the unwise decision to attack Riddick, pitting Jordi against Vin Diesel. Asked about the experience, the actor told us, "Vin is a very nice guy, but it's true that when he plays the role...he really intimidates you and that's a fact. Obviously, in [shooting] the movie we don't see his [character's] strange eyes. We see his eyes and that's maybe even more intimidating. He has total control of the set."
Like his Riddick co-star Raoul Trujillo, Jordi has a long resume, so we asked him to pick a few recommendations for audiences who want to dig deeper into the work of the man behind the crazed bounty hunter. "I've done like two or three amazing movies in Spain when I was younger. The last movie I did in Spain has nothing to do with my American career. It's called The Consul of Sodom. I'm playing [Spanish poet Jaime Gil de Biedma] from 30 years old to 70 years old."
"And then on my American side, people love Blow and Bad Boys 2 and Colombiana," he added. "But there's a movie called Elizabeth: The Golden Age, where I'm playing the King of Spain. It's a small role but it's really, really interesting, the way I constructed it."
Jordi has also stepped behind the camera for a number of films, with his most recent directorial credit coming in 2012. He told us how the experience has informed his acting performances. "It changes the whole thing. That's why I wanted to try to direct a couple of movies, and I have another project for this year. It's because I wanted to know more about the whole thing," he explained. "And absolutely I know more about the whole thing. I see what's behind everything the director wants to do.
"When I'm playing as an actor, I don't want to interfere at all with the director. I'm just an actor. I'm totally respectful. After directing movies, I respect any director in this world, because making a movie as a director is tons and tons of work."
Riddick is available on Blu-Ray and DVD tomorrow. For more on Jordi Molla, you can visit his artist page on PicassoMio (picassomio.com/jordi-molla).
(c)2013 Brittany Frederick. Appears at Starpulse with permission. All rights reserved. No reproduction permitted. Visit my official website and follow me on Twitter at @tvbrittanyf.